By Matt Samansky
Supplement Review Editor
Spring has sprung…and so has the elastic on my jeans.  It's finally time to shed the puffy jackets along with the excess fat from those long winter months. Diet programs commence and, let's be honest, they usually fail. According to a study conducted by Bodybuilding.com, 73% of people ditch their fitness aspirations before reaching their goal. Why is this? There are many reasons but I personally attribute the lack of perseverance to the sudden lifestyle change. When people dive straight into a nutrition program, they leave little or no room for cheating – a word that mirrors that of a swear and an action that yields physical and emotional guilt.
What if you could purchase a product that satisfies the sweet tooth without the guilt of cheating on your diet? Well, look no further than Chronic Strength's healthy protein treats.
Stephanie Polk developed Chronic Strength as a healthy alternative to the sugary snacks found in the central aisles of the grocery store. Stephanie would spend hours in the kitchen experimenting with fresh, wholesome, organic, gluten free, nutritious ingredients and super foods before finally finding the perfect recipe.
First up on the Chronic Strength menu is their Protein Crumble. Available in banana, peanut butter, dark chocolate, and PB&J flavors, this is a great snack to eat pre-workout, post-workout, or in between meals. I enjoy using the crumble as a breakfast cereal substitute in a bowl of milk. The 1 oz. serving size yields 8g of fat, 11g of carbohydrate, 6g of protein, and 140 total calories.
If a crunch is what you seek, look no further than Chronic Strength's protein granola in maple cranberry and pumpkin spice varieties. Similarly to the crumble, this treat can be mixed into parfaits or yogurt cups. Macros for 1 oz. include 5g of fat, 17g of carbohydrate, 4g of protein, and 125 total calories.
My personal favorite of the Chronic Strength lineup is the protein truffles. Available in cacao, chocolate peppermint, fudge brownie, and peanut butter – 1 truffle contains 6g of fat, 11g of carbohydrate, 5g protein, and 120 calories.
And finally, Chronic Strength has solved one of life's dilemmas by creating a guilt free chocolate chip cookie dough! I'll be honest, I fully intended on using the cookie dough to bake some high protein chocolate chip cookies. Unfortunately, it didn't last very long. I popped the lid off and ate the dough right out of the container. Sure, I missed out on some fresh baked cookies, but I wasn't complaining. One tablespoon of the dough yields 2.3g of fat, 9g of carbohydrate, 6g of protein, and 76 total calories.
Quality of Ingredients: Natural peanut butter, whey/casein protein, oats, honey, puffed quinoa, raw cacao, chia seeds, and cinnamon are just a few of the organic, gluten-free, egg-free ingredients Stephanie utilizes to bake her high protein treats. Each and every item available is free of artificial flavors and dyes to provide the cleanest way to cheat on any diet. Chronic Strength snack do include nuts, seeds, and other ingredients that one might be allergic to, so just make sure to read the label! 34/34.
Price: Baking with real food can be expensive and the goal of a business is to make a profit. So from a business standpoint, I understand the high price of the products. Having said that, there are (at most) 15 servings of product per container and serving suggestions are not proportionally conducive. I could realistically eat an entire package of granola in one sitting. This would be a $15 meal that would not nearly satiate my appetite. Factor in shipping and we're talking about a $20 snack gone in under 10 minutes. 25/33.
Taste: Chronic Strength's protein snacks are just that; snacks. They are not supplements, so I have replaced the "effectiveness" category for one more appropriate to the product. Having said that, they are downright delicious. I have sampled everything Chronic Strength has to offer and I can wholeheartedly declare the protein truffles to be my favorite. Soft, dense, and flavorful, I can't stop at just one. I ate the entire container of cookie dough in one sitting and there is no protein aftertaste lingering from any of the foods. One thing I must say is that the cacao truffles, however, are unsweetened and sacrifice flavor. 30/33.
Overall: Chronic Strength delivers delicious and nutritious snacks to the health conscious individual. I highly recommend these treats for one's own personal use taste or even as a gift for a certain recent college graduate/supplement review editor…(cough). 89/100.
What protein packed food should I tackle next? Shoot me a Facebook post, tweet, email, etc. and let me know!
Looking for more about supplements and more product reviews?  Check out the Digital Muscle Supplementation Blog!
Editor's Note: As with any of the supplement reviews found on DigitalMuscle.com, this review is not an endorsement nor does it replace the guidance of a medical professional. This and all reviews found on DigitalMuscle.com are solely the opinion of the reviewer.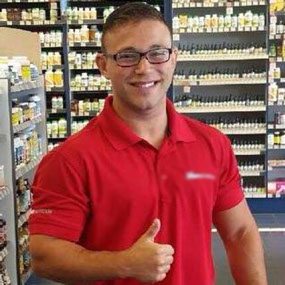 After a series of concussions ended his high school wrestling career, Matt discovered bodybuilding, quickly immersing himself in the world of fitness, nutrition and supplementation. A National Academy of Sports Medicine Certified Trainer, Matt founded UFit Sports Performance and Nutrition and has helped dozens of clients achieve their fitness goals. Having tried and tested countless supplements, Matt is highly regarded as a credible evaluator of nutritional products.