Have you ever wondered what's in your fat burner? What exactly are the magical ingredients that make those tiny capsules so powerful? Yohimbine is one of the most popular thermogenic supplements on the market. Today, we will be evaluating this compound individually.
Yohimbine works by increasing adrenaline levels, thus kicking into gear the process of fat oxidation. Pretty simple, right? Well, there are a few contradictions associated with the supplement that need to be addressed.
First of all, much like caffeine or synephrine, yohimbine is a stimulant. The fat burning process begins in the thyroid and these stimulants do exactly that; stimulate the thyroid. Some, however, have a very low tolerance to "stims" and would do best to avoid this product.
Another caveat associated with the supplement is that it does not play well with others. Just last month, I visited my doctor for an annual check-up. One of the first things the nurse asked me was if I was taking any medication. Had I said "yohimbine," and needed to be prescribed something else, extreme neurological complications could have occurred. Similarly, studies show that yohimbine supplementation may trigger anxiety and episodes of manic psychosis.
Finally, and far less scary than causing neurological disorders, yohimbine is historically mis-dosed by companies by up to 150%. Make sure you are purchasing your supplements from reputable sources, boys and girls!
Now that the formalities are out of the way, let's get into the nitty-gritty. As you have come to expect, I only review the products I try and vice versa. To do so, I must take you back in time to the summer of 2014, preparing for my first (and as of this writing, my only) bodybuilding competition. I have replicated the account of my final 7 weeks below, straight from my personal notebook.
Date/Duration from Show
Yohimbine Dosage
Fasted Cardio
Weight
Macronutrients
April 30

7 weeks out

10mg/day
40 minutes
150 lbs.
Protein: 218g

Carbohydrates: 199g

Fat: 70g

Calories: 2,245kcal

May 7

6 weeks out

12.5mg/day
55 minutes
148 lbs.
May 23

4 weeks out

15mg/day
70 minutes
144 lbs.
June 1

3 weeks out

15mg/day
80 minutes
141 lbs.
Protein: 197g

Carbohydrate: 124g

Fat: 54g

Calories: 1,732kcal

June 13

1 week out

N/A
N/A
139 lbs.
Protein: 193g

Carbohydrate: 96g

Fat: 46g

Calories: 1,536kcal

June 21

Day of Show

N/A
N/A
137 lbs.
You will find I lost a consistent 2-3 lbs. each week, which I attribute to my ever-increasing dosage of Yohimbine HCl. As much as I hate to admit it, I did not suffer much with my diet. I maintained a middle-to-low range calorie intake and spent hours on the treadmill. I have executed this exact protocol without Yohimbine and did not yield results nearly as similar.
Quality of Ingredients: Yohimbine HCl is, what I call, a supplingredient (a fake term I invented to describe supplements with only one ingredient). Other products that fall into this category include Arginine, L-Carnitine, and so on. It should not surprise you when I say the only ingredient in this product is, you guessed it, Yohimbine. Despite this ingredient being historically mis-labeled, PrimaForce seems to have gotten it right with Yohimbine HCl. 22/25.
Safety of Product: We discussed the potential side-effects associated with Yohimbine supplementation; jitters, anxiety, and other neurological disorders. Thankfully, I did not experience any of these effects…that I know of. If you are sensitive to stimulants or have a family history of mental deficiencies, I advise against this product. As with any supplement, consult your physician before taking Yohimbine. 18/25.
Effectiveness: My personal records speak for themselves. I had a relatively easy preparation for my first contest, maintaining a moderate level of calories. My physique, despite some flaws, displayed decent conditioning with striations and vascularity prevalent throughout. Although the rate of fat loss decreased significantly as soon as I eliminated the controlled substance, I can not bestow all of the credit to PrimaForce's fat burning supplement. I was performing 50, 70, 80 minutes of cardio at a given time, which kept my heart rate high and oxidizing fat with the help of this supplement 20/25.
Price: Bodybuilding.com sells a 90-serving bottle of Yohimbine HCl for $9. One capsule, however, yields one 2.5mg capsule. Depending on your proportions (height/weight/body fat/etc.) and goals, I would advice purchasing 2-3 bottles. This sets you back $30 for an effective ingredient found in most fat burners without all the fillers. 25/25.
Overall: I do not foresee any bodybuilding contests in my immediate future, however, Yohimbine HCl by PrimaForce would be on my shopping list had I felt the need to "shred-down" for summer. It is a solid product with tried and true results that I recommend to anyone seeking a fat burning boost. 85/100.
Is Yohimbine a part of your summer shred? As always, shoot me a tweet or drop me a post about any supplements YOU would like to see me review. My contact info is listed on my main page!
Click Here to Check out my other Supplement Reviews right here at Digital Muscle!!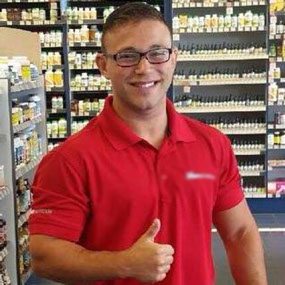 After a series of concussions ended his high school wrestling career, Matt discovered bodybuilding, quickly immersing himself in the world of fitness, nutrition and supplementation. A National Academy of Sports Medicine Certified Trainer, Matt founded UFit Sports Performance and Nutrition and has helped dozens of clients achieve their fitness goals. Having tried and tested countless supplements, Matt is highly regarded as a credible evaluator of nutritional products.