By Matt Samansky
My initial attempts at breaking into the bodybuilding and fitness industry were met mostly with confusion from family and friends. "What was my goal?" they would ask. "Are you trying to become a professional bodybuilder?"  "How do you expect to become successful by lifting weights?".  I suppose I can't blame them for their questions.
Although I didn't have all the answers, I was young, full of ambition, and determined to achieve some level of accomplishment in the sport I love. Many prospective titles and occupations swirled in my mind; competitor, trainer, nutritionist, the list goes on. It wasn't until recently that the word "guru" entered my vocabulary. By definition, a guru is a teacher, an expert, a master of certain knowledge.  To me, this simply meant educating myself on the bodybuilding basics; training, nutrition, and supplementation.
Dave Palumbo is one of the world's premier educators and respected masters of bodybuilding contest preparation. When I heard Dave was offering a full day seminar teaching the principles behind his practice, I had no choice but to take advantage.
The day began with roll call and a quick introduction from each of the nineteen attendees. They migrated from Denver, Virginia, even as far as Italy for the full-day course. The intimate setting made for a comfortable learning environment in which anyone could easily participate. Unfortunately, some took advantage of this freedom and monopolized the time with silly comments about the size of Rich Piana's arms. If you're planning to enroll, be weary of the audience that Dave draws. Although many are truly interested in learning the secrets of becoming diet guru's, others simply seek industry gossip from an established name.
We were each provided with a copy of the Palumbo Playbook, an extensive 80+ page bible to nutrition, training, supplementation, and safe drug protocols. There is so much to learn that despite the full 12 hours of class that day, we still did not cover all of the information on the pages!
Dave is a natural communicator, relaying his wealth of knowledge with ease. When he speaks, you listen. He exudes an air of confidence that removes any notion of doubt. We discussed offseason and contest prep nutrition, supplementation, and methods of training all before breaking for lunch. Upon reconvening, our focus turned to utilizing various strategies to create optimal diet programs and safe performance enhancing drug cycles.
Perhaps the most interesting topic discussed was perfecting the most crucial period leading up to a contest, peak week.  Many coaches notoriously experiment with radical methods to dial their clients in for a show. Nine times out of ten, this results in a competitor missing the mark! Dave does not guarantee his techniques to be foolproof, but he is confident they will work.
You will get from this course what you put in. Enter the course with an open mind – a list of intelligent, thought provoking questions, and your day will be a success. Do not expect to learn groundbreaking techniques that will give you or your clients a significant edge. Having said that, you will learn a great deal of invaluable information. If building a lucrative career in the fitness industry is a dream of yours, I highly recommend Dave Palumbo's unforgettable Secrets to Becoming a Diet Guru course.  Thanks, Dave!
And as always, be sure to visit the Training Blog here at DigitalMuscle.com for useful tips for individuals of all levels!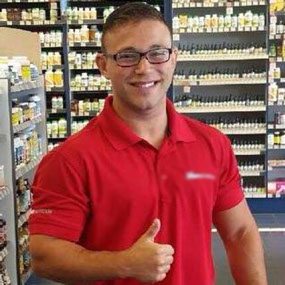 After a series of concussions ended his high school wrestling career, Matt discovered bodybuilding, quickly immersing himself in the world of fitness, nutrition and supplementation. A National Academy of Sports Medicine Certified Trainer, Matt founded UFit Sports Performance and Nutrition and has helped dozens of clients achieve their fitness goals. Having tried and tested countless supplements, Matt is highly regarded as a credible evaluator of nutritional products.