By Matt Samansky, Supplement Review Editor
Looking at my slate of supplement reviews, it's no secret that I spend a good deal of time browsing the various bodybuilding forums and YouTube fitness channels. This review will add to that list.
Machine Whey is the crown jewel of MTS Nutrition, the supplement company owned by YouTube personality, Marc Lobliner.  The man known as "The Machine," has held many titles in the bodybuilding industry, including a role as Chief Marketing Officer of TigerFitness.com.
After leaving Weider Publications, Marc helped popularize branched chain amino acid supplementation as CEO at SciVation. Needless to say, Marc has a wealth of experience in the industry, especially with formulating products.  That know-how has granted "The Machine" the skills to develop an incredible protein powder.
I met Marc almost a year ago amongst the chaos of the Arnold Classic. We got the chance to speak briefly as he dolled out samples to ravenous expo-goers. As the mixing machine containing the creamy red velvet cake protein powder emptied, I confessed that I had been looking forward to sampling that very flavor. Refusing to leave empty handed, I purchased 5 lbs. of the world famous Creamy Red Velvet Cake flavored powder, and I fell in love.
Whereas pre-workout concoctions require an extensive amount of chemical formulation, whey protein powders are pretty standard. This particular product contains an 80:20 ratio of whey protein concentrate to whey protein isolate, allowing for an easily digested, muscle building meal replacement.
Protein supplementation is essential especially during the post-workout anabolic window. This is the 30-60 minutes after your workout where your muscles are broken down and require nutrients for optimal recovery. Isolate is the preferred type due to its efficient absorption rate and ability to begin repairing damaged muscle tissue, almost immediately.
Essential amino acids like Leucine, Isoleucine, and Valine are the considered the "building blocks" of proteins and can help athletes reap many benefits. Whey protein supplementation improves immune function, increases lean mass, and oxidizes fat.
Before I complete my review and assign Machine Whey a grade, let's take a look at the laundry list of available flavors: American Apple Pie, Banana Cream Pie, Birthday Cake (limited time), Caramel Sutra, Chocolate, Cinnagram, Creamy Red Velvet Cake, Gourmet Cookies & Cream, Gourmet Mint Cookies and Cream, Key Lime Pie, No Bake Cookie, Peanut Butter Fluff, Pumpkin Pie, and Vanilla. Hungry yet?
Quality of Ingredients: One serving of MTS Whey contains a balanced nutritional profile of 150 calories, 25g of protein, 5g of carbohydrates, and 4g of fat. However, I believe in whey protein isolate as it's the most effective and fastest absorbing protein powder on the market. With an 80:20 concentrate to isolate ratio, Machine Whey leaves me disappointed, hoping for more isolate and less concentrate. 7/10.
Safety of Product: Whey protein can be consumed by anyone not allergic to milk and soy. Additionally, MTS Whey is processed in a plant along with products containing egg, peanut, tree nut, shellfish, and wheat products.9/10.
Effectiveness: When you supplement with a protein powder year-round, it becomes increasingly difficult to rate the potency of a single product. Having said that, I believe that adding 4g of fat to my diet from the shake gave me an added boost in and out of the gym. 7/10.
Price: 2lbs. (24 servings) of MTS Whey can be purchased from TigerFitness.com for $29.99 while the 5lb. container (67 servings) goes for $54.99. A bit expensive, but in my opinion, you get what you pay for 7/10.
Overall: MTS is famous for its extensive list of flavors and I'll be honest; I purchased Machine Whey for the taste. After supplementing with it for approximately 2 months, not only did my taste buds thank me, but my muscles did as well. Machine Whey is delicious and effective! 9/10.
Have you treated your muscles to MTS Whey?  What are some of your favorite flavors?  As always, shoot me a tweet or drop me a post about any supplements YOU would like to see me review.  My contact info is listed above!
Also See: The Digital Muscle 30 Day Report!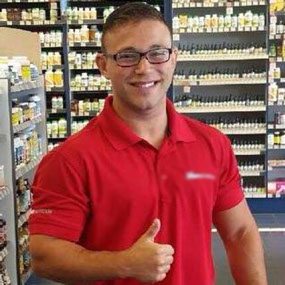 After a series of concussions ended his high school wrestling career, Matt discovered bodybuilding, quickly immersing himself in the world of fitness, nutrition and supplementation. A National Academy of Sports Medicine Certified Trainer, Matt founded UFit Sports Performance and Nutrition and has helped dozens of clients achieve their fitness goals. Having tried and tested countless supplements, Matt is highly regarded as a credible evaluator of nutritional products.