On a new edition of Pro Bodybuilding Worldwide Radio hosts Eric Broser and Dave Bourlet visit with bodybuilding legend Chris Cormier LIVE from Oxygen Gym in Kuwait, one of the world's hottest bodybuilding destinations.  Chris lets us in on who he's working with, how he connects with them on both a physical and psychological level, and what makes Oxygen Gym so unique. Dave and Eric are also joined by show promoter Chris Minnes to discuss how he's trying to raise the bar for the entire industry. Coach Broser also replies to an "Ask Merlin" question about how to best use BCAA's both off and in season, and why offseason bulking is counterproductive to long term progress. This week's episode is brought to you by Ironmag Labs and by House of Pain Apparel.
Use the player above to listen now or access show with this download link: http://bit.ly/2iE1ORI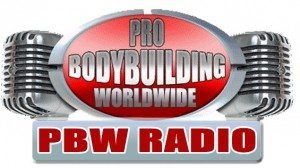 The Pro Bodybuilding Worldwide Radio Show, bodybuilding's radio voice, is presented by DigitalMuscle.com. Created in 2005 by Dan Solomon, the show is bodybuilding's longest running multimedia production. Listen to the broadcasts here or subscribe on iTunes.