In a move to restore one of bodybuilding's great traditions, Pro Bodybuilding Worldwide Radio (PBW) resumes its production schedule, broadcasting from a new location, with new hosts and a new format.  Launched in 2005 by Dan Solomon, the program, presented by DigitalMuscle.com, has logged more than 500 hours of programming, spanning 13 seasons of bodybuilding industry coverage.  The program is the only media outlet to have welcomed all 13 winner's of the Mr. Olympia contest, including Arnold Schwarzenegger!
"The show started with Bob Cicherillo and I delivering the news of the week." Solomon recalls,  "I was then honored to work with my good friend Chad Nicholls.  Now we're switching things up a bit, giving fans an entirely different perspective.  Dave Bourlet is one of the most connected bodybuilding insiders on the west coast.  Eric Broser is a treasure trove of training and nutrition knowledge based out of Gold's Venice.  These guys are in the trenches and they're gonna do a great job co-hosting the program."
Brought to you by Ironmag Labs, Wings of Strength and House of Pain Ironwear, the new episode of PBW is now available using the player below.  Or find the show on iTunes! (also available using this direct download link: http://bit.ly/2u53tnE)
Click Here to Learn More About PBW Radio!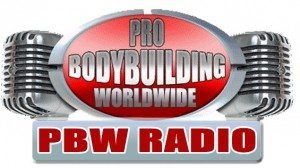 The Pro Bodybuilding Worldwide Radio Show, bodybuilding's radio voice, is presented by DigitalMuscle.com. Created in 2005 by Dan Solomon, the show is bodybuilding's longest running multimedia production. Listen to the broadcasts here or subscribe on iTunes.