On a new Pro Bodybuilding Worldwide Radio hosts Eric Broser and Dave Bourlet visit with living legend Tom "The Golden Eagle" Platz to discuss the work he's doing with Sergio Oliva Jr. and how his own career in the industry as a speaker and influencer has suddenly resurged! Eric and Dave also discuss the upcoming Ferrigno Legacy event and the 2018 Arnold Classic, which are looking to be bigger and better than ever. Finally Eric answers listener questions about BCAA's and shoulder training. Don't miss this one! Presented by House of Pain Apparel exclusively at DigitalMuscle.com.
Use the player above to listen now or access show with this download link: http://bit.ly/2yMN9tP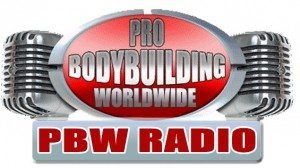 The Pro Bodybuilding Worldwide Radio Show, bodybuilding's radio voice, is presented by DigitalMuscle.com. Created in 2005 by Dan Solomon, the show is bodybuilding's longest running multimedia production. Listen to the broadcasts here or subscribe on iTunes.