DigitalMuscle.com Interview Series
In 2016, the NPC and IFBB Pro League launched the new Classic Physique Division in an effort to provide a home for a more classic, streamlined physique, reminiscent of the days when bodybuilders were celebrated for their aesthetics.  In this special one-on-one interview, Dan Solomon visits with Stan McQuay, a veteran bodybuilder who finds himself as one of the top contenders heading into the inaugural Classic Physique Olympia.  In this interview, Stan discusses the new division, the criteria, and where it's headed.  He also provides a rare inside look into his supplementation program and his massive 30 lb transformation.
Use the player below to listen.  Or use this direct download link!
Looking for More Olympia Coverage?  Check out Digital Muscle's Olympia Section!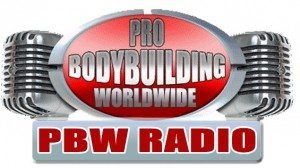 The Pro Bodybuilding Worldwide Radio Show, bodybuilding's radio voice, is presented by DigitalMuscle.com. Created in 2005 by Dan Solomon, the show is bodybuilding's longest running multimedia production. Listen to the broadcasts here or subscribe on iTunes.