By Matt Samansky, Supplement Review Editor
Rich Piana has been the victim of internet trolls since the minute he entered the YouTube fitness community almost four years ago, but his pre-workout "Kill It," is no joke.  Whether you know him as a bodybuilder, real estate mogul, or owner of 5% Nutrition, you know Rich as an "all or nothing" kind of guy.  Bodybuilders are big….Rich is bigger!  Companies sponsor a few athletes, Rich sponsors an army of them.  The man settles on nothing and that truly shows in the formulation of this pre-workout.
When I first picked up the bottle, I read that Kill It guarantees "energy to annihilate your workout [and] attack the weights [with] destructive endurance [and] laser sharp focus [all while achieving] extreme, insane pumps."   That's some powerful verbiage that I believed would be difficult to deliver on.  After my first training session supplementing with it, I can confirm that Kill It is everything you want in a pre-workout; energy, focus, strength, pump, and power.
It was a cold and rainy fall Saturday afternoon and despite it being arm day, I had been dreading going to the gym. I filled my shaker bottle with the blue raspberry flavored powder and guzzled down 16 oz. of water. Within 10 minutes, I had the energy I had been lacking and I was ready to train.  This might sound corny or even a bit cliché, but it's true!  In my experience, many pre-workout drinks provide a flash of energy before wearing off during set number one. That is not the case with Kill It. I left the gym after an hour of banging and clanging without experiencing any dips or crashes of energy. Let's take a look inside the bottle to find out what exactly gives this pre-workout my approval.
We are familiar with ingredients like caffeine, Agmatine sulfate, and Beta-Alanine from 99% of the pre-workouts on the market. These are all found in Kill It, plus many more. This particular pre-workout powder contains creatine, as many do, but Kill It employs a different variation. Creatine Magnapower bypasses the loading phase of a monohydrate, eliminating the stomach bloat that many lifters try to avoid.  Another special ingredient inside Kill It is L-Norvaline.  Much like Arginine, Citrulline Malate, and Niacin, which are all included in Kill It, Norvaline contributes to greater muscle pumps by blocking the enzyme Arginase.  Next up, N-Acetyl L-Tyrosine is an interesting amino acid with interesting affects.  L-Tyrosine produces dopamine, the happy hormone, and eliminates stress from the workout, while the N-Acetyl component targets the brain and helps you to focus in on those heavy reps and sets.
Coconut water concentrate might be the rarest of ingredients in this pre-workout.  A natural fluid replacement supplement, coconut water concentrate contains vitamins, minerals, anti-oxidants, amino acids, enzymes, and electrolytes all burned away during the workout.  We have to replenish all of those important nutrients in order to efficiently repair the muscles broken down after a taxing training session.
The name "Kill It" suggests this pre-workout is only for hardcore lifters, but that couldn't be farther from the truth.  While this supplement provides the punch advanced lifters look for, it is not stimulant-heavy and can be taken by beginners as well.
Quality of Ingredients: The formulation of ingredients found in Kill It are some of the best on the market. Some are found in most pre-workouts on the market while others are exclusive to this product. Each one is dosed effectively and helps to provide the energy, focus, power, and pumps as promised by Rich Piana himself.  10/10
Safety of Product:  Unless you have a severe intolerance to caffeine, this product is 100% safe. Even if you are sensitive to caffeine, Kill It is 100% safe. Some beginner lifters fear creatine, no matter what form it takes.  I can assure those trainees that no studies have been done (that I'm aware of) to prove Creatine is an unsafe ingredient, especially in the variation Kill It employs. 9/10
Effectiveness: As with any dietary supplement, continuous consumption will result in building a tolerance.  By the time you run through a full bottle of Kill It, effectiveness will wear down and energy/pumps experienced will be significantly decreased.  To avoid this, I suggest you either cycle off for a month, or just simply use the product as per necessity.  Sometimes you need that boost, other times you don't. Using Kill It, or any pre-workout, as needed will eliminate building a tolerance.  8/10
Price:  One bottle of 30-serving Kill It can be purchased directly from rich-piana.com or IllPumpYouUp.com for $35.95. In my opinion, you get what you pay for and while some people might find a product priced at $1.20+ per serving a little high, I believe Kill It is reasonably priced.  8/10
Overall: I am a huge fan of this product.  Not only does it deliver on the promises it makes, it tastes great too.  I highly recommend Kill It to anyone looking for a pre-workout boost of energy, intensity, and muscle pump!  9/10
Have you supplemented with Rich Piana's Kill It?  I'd love to hear your experiences.  As always, shoot me a tweet or drop me a post about any supplements YOU would like to see me review.  My contact info is listed above!
Also See:  Visualization…..It Works! – An Article by John Hansen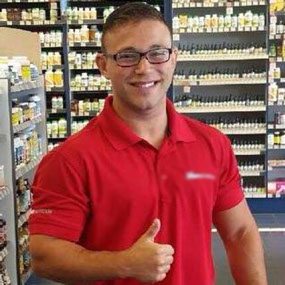 After a series of concussions ended his high school wrestling career, Matt discovered bodybuilding, quickly immersing himself in the world of fitness, nutrition and supplementation. A National Academy of Sports Medicine Certified Trainer, Matt founded UFit Sports Performance and Nutrition and has helped dozens of clients achieve their fitness goals. Having tried and tested countless supplements, Matt is highly regarded as a credible evaluator of nutritional products.