BREAKING NEWS: the importance of postworkout nutrition is fading! Okay, okay, that isn't exactly breaking news—I am no visionary, and the theory is really nothing new. Nonetheless, bodybuilders and fitness enthusiasts are placing a greater emphasis on supplementation inside the gym and finding that they get greater benefits than they get with postworkout carb loading.
Studies show that intraworkout nutrition helps maintain elevated adenosine triphosphate (ATP), creatine, and insulin levels. The effects of those heightened molecules include increased strength, fat oxidation, and rate of nutrient transfer into the muscles and reduced release of catabolic hormones such as cortisol, glucagon, and epinephrine.
In late 2014, two of the industry's well known entities teamed up to bring to market an innovative product designed to capitalize on that theory and to be consumed between sets.
When John Meadows signed with Prime Nutrition in 2014, he was an amateur bodybuilder who'd been toiling the NPC circuit for 30 years. Since that time, the man known as "Mountain Dog" has elevated to IFBB professional status and assisted Prime in formulating a platinum series of supplements, including Intra-MD.
One of the most popular theories among those looking to build muscle is that you should load up on simple sugars after your workout. The problem is that dextrose and foods loaded with simple sugars have high osmolality. Osmoreceptors in the small intestine sense the foods' nutrient density, resulting in slower gastric emptying to the stomach. Carbohydrates and amino acids are absorbed less efficiently and reach the muscles to begin recovery at a much slower rate.
Intra-MD tricks the stomach into releasing large amounts of carbohydrates into the small intestine for rapid absorption by introducing highly branched cyclin dextrin. It is in the small intestine where glucose molecules link together to form high-molecular weight polymers. The low osmolality of the polymers creates a pathway for branched cyclin dextrins to exit the stomach instantly for rapid, sustained increases in blood sugar and insulin.
In addition to 30 grams of carbohydrates, Intra-MD includes 14.5 grams of essential amino acids (L-leucine, L-isoleucine, L-taurine, L-glycine, L-glutamine, and citrulline malate, to name a few). Amino acids, the building blocks of protein, are the key components of muscle gain, recovery, and fat loss. At just 120 calories per serving, this intraworkout drink won't put your macros out of whack, either.
I am a huge fan of John's and of the Prime Nutrition brand. I remember the day Prime Nutrition President P.J. Braun and CEO Aaron Singerman announced the release of Intra-MD. I jumped on the opportunity to be one of the first to try it and purchased a bottle as soon as the presale opened up. Since that day, I am sure to have a jug in my gym bag at all times.
On days when I'm supplementing with Intra-MD, I experience significantly increased levels of intensity, strength, and focus. The formula does not sit idly inside my stomach but, rather, digests immediately and is made available instantly. My muscles respond wonderfully as the pump is prevalent by the end of my first set.
Quality of ingredients: This review went a little more into depth scientifically than I had originally expected, but since highly branched cyclin dextrin is not commonly found in supplements, I felt the need to explain. And I'm glad I did. Loaded with fast-acting, bioavailable carbohydrates and essential amino acids, Intra-MD is a no-brainer. It also helps that Prime lists the exact supplement profile right on the label. 10/10.
Safety of Product: As I mentioned, each and every ingredient is listed on the label, with no proprietary blends (and you know how much I hate proprietary blends). This stevia-sweetened product of carbohydrates and amino acids is 100% safe for consumption by any lifter, novice to advanced, looking for a strength boost between sets and a recovery boost outside of the gym. 10/10.
Effectiveness: When products tout the ability to "increase recovery," it is difficult to measure that effectively—especially if the subject is training with such rigor and intensity that his or her muscles experience soreness regardless of recovery time. But Intra-MD does exactly that, plus it increases vasodilation, pump, and strength. 9/10.
Price: One 30-serving bottle of Intra-MD can be purchased from Bodybuilding.com for $45.47 or directly from PrimeNutrition.com for the same price—but with a 10% off code (CSMATT). Available flavors include Grape Titan and, my personal favorite, Orange Carnage.
Pro tip: Mix Orange Carnage–flavored Intra-MD with Vanilla Isolation in a blender with ice for an orange dreamsicle-eque treat. 8/10.
Overall: Intra-MD's unique choice of ingredients provides a game-changer in the industry. Supplementing with it will bring improvements in the strength, recovery, and physiques of beginners and advanced lifters alike. 9/10.
What's your theory on intraworkout nutrition? As always, shoot me a Tweet or drop a post about any supplements YOU would like to see me review. My contact info is listed above!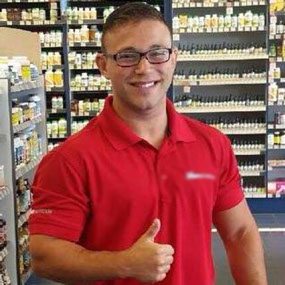 After a series of concussions ended his high school wrestling career, Matt discovered bodybuilding, quickly immersing himself in the world of fitness, nutrition and supplementation. A National Academy of Sports Medicine Certified Trainer, Matt founded UFit Sports Performance and Nutrition and has helped dozens of clients achieve their fitness goals. Having tried and tested countless supplements, Matt is highly regarded as a credible evaluator of nutritional products.