By John Hansen & Shawn Ray
2021 Olympia Report

The 57th Annual Mr. Olympia contest took place from October 7th-10th, 2021 at the Orange County Convention Center in Orlando, Florida. The extravaganza featured 11 professional events this year including the Mr. Olympia contest, the Ms. Olympia contest, the Fitness Olympia, Figure Olympia, Women's Physique Olympia, Bikini Olympia, the 212 Bodybuilding Olympia, Men's Physique Olympia, Classic Physique Olympia, the Wheelchair Olympia and the brand new Wellness Olympia division.

The weekend started off on a somber note with the news that George Peterson, the excellent bodybuilder who competed in the 212 Bodybuilding division, had suddenly passed away on Wednesday, October 6th. No cause of death was announced at the time of his death but the bodybuilding community was rocked by this tragic news only one day before the Olympia weekend was to begin. George was loved by all who knew him for his warm personality, genuine smile and good heart. Dan Solomon, the producer of the Mr. Olympia competition, gave a nice tribute to George at the beginning of the Olympia Press Conference.

Dan also gave a heartfelt memorial to Peter McGough along with his tribute to George Peterson. Peter, the editor-in-chief of Flex Magazine for many years, passed away in late 2020 after battling cancer for many years. Peter's legacy as a talented writer and bodybuilding historian will never be forgotten by our industry for the impact he made.

Mr. Olympia Mamdouh "Big Ramy" Elssbiay won his second Mr. Olympia title after a hard fought battle with former Mr. Olympia Brandon Curry during the Olympia prejudging on Friday night. Big Ramy warned that "Winter was coming" again this year at the Olympia Press Conference on Thursday, a repeat of what he promised in 2020 when he won his first Mr. Olympia title.
However, no one anticipated the stellar condition of Brandon Curry, 2019 Mr. Olympia winner, who came onstage bigger and fuller than he's ever been.

With Brandon's superior shape and increased size, it became a real battle to see if Ramy could win his second title. By the finals on Saturday night, Big Ramy had improved his condition enough to hold off Brandon Curry and win his second Mr. Olympia title. They were both pushed hard by the excellent physique of Hadi Choopin from Iran who took third place for the third consecutive year.
Hadi, similar to last year's Mr. Olympia, dramatically improved from the prejudging on Friday night to the finals on Saturday. His dense muscle mass along with rock hard conditioning helped him to earn the People's Choice Award, voted by the fans watching the show.

Hunter Labrada, competing in his second Mr. Olympia contest, moved up from eighth place last year to fourth. Hunter, son of the legendary Lee Labrada, is quickly making his presence known as one of the rising stars in the bodybuilding world with his combination of excellent shape and massive size. He also presented one of the more creative and flowing posing routines of the evening.

Nick Walker, winner of the 2021 New York Pro and the Arnold Classic, was in fantastic shape in fifth place. Nick was competing in his first Mr. Olympia contest and he displayed a massive and rock hard physique that was able to stand up to the best bodybuilders in the world. At only 27 years of age, Nick has the confidence and the desire to be one of the best pro bodybuilders in this era.

Classic Physique Olympia The Classic Physique Olympia continues to grow in both popularity and competitors. Chris Bumstead, 2x Classic Physique Olympia champion, easily won his third title at the 2021 Olympia. Chris has the combination of the right structure, physique and presentation to dominate this division. Even better than a year ago, Chris added 6 pounds of new muscle to his frame to win an unanimous decision from the judges.

Terrence Ruffin, 2021 Arnold Classic champion, placed in the runner-up spot for the second year in a row. Although one of the shorter competitors, Terrence has the great shape and aesthetic flow to his physique that sets him apart from most of the competition. He was also in outstanding condition and his rear double biceps pose was one of the best onstage. Terrence is known for his fantastic posing routines and he didn't disappoint at this Olympia with one of his best performances of his career.

Third place for the second consecutive year was former 2x Classic Physique Olympia champion Breon Ansley. Breon has one of the best physiques in the division and he boldly took off his shirt at the Olympia Press Conference on Thursday to show everyone how prepared he was for this contest. Unfortunately, Breon ended up in third place again, a clear indication of how competitive this division has become.

Rising young star Urs Kalecinski, only 23 years old from Germany, took fourth place in his first Olympia appearance. Urs has the height, the structure and the attitude to go all the way to the top. He is very wide with a small waist, a wonderful vacuum pose and sliced quadriceps. Urs also performed one of the best posing routines of the entire weekend. Utilizing old school bodybuilding poses from the 1980's and '90's, Urs put together a dramatic and artistic routine that ended with him doing the splits onstage followed by a little pop lock posing that got the crowd going crazy.

Fifth place went to another rising star from Brazil, 26 year old Ramon Rocha Querioz. Ramon has great thickness in his arms and legs and shows great potential for future success. He needs to work on the thickness of his back to make his physique more competitive in this division but the future looks very bright for Ramon.

Ms. Olympia Andrea Shaw won her second consecutive Ms. Olympia title with her massive and shapely physique.
Andrea has the combination of nice aesthetics, good size and a very pleasing presentation to make her one of the best Ms. Olympia winners in years. She looks to have a hold on the title of Ms. Olympia for a long time.
Helle Trevino competed in rock hard condition to take an impressive second place. Helle was also second earlier in the year at the Rising Phoenix Arizona Pro but her condition was much improved for the Ms. Olympia.

Helle came ready to win but was defeated by the superior shape of Andrea on this night.
Margie Martin, last year's runner-up at the Ms. Olympia, was also in great shape in third place.
Margie has excellent leg separation and a good V-taper and she battled hard for third place. Mona Poursaleh, winner of the 2021 Tampa Pro, placed fourth in her first Ms. Olympia competition. Mona displays incredible condition with cross striated quads in her physique. Irene Andersen, also competing in her second Ms. Olympia competition, did very well placing in the top five.  

Fitness Olympia Former Fitness Olympia champion Whitney Jones won her third Fitness Olympia title after placing third last year.
Whitney did something unprecedented in the Fitness division as she won her first title back in 2015, recaptured the title again in 2019 and now has won the title a third time in 2021. Whitney was in spectacular condition and she presented a high energy and exciting presentation that got the judges attention to win the Fitness Olympia title for a third time. Congratulations to Whitney on such a great accomplishment!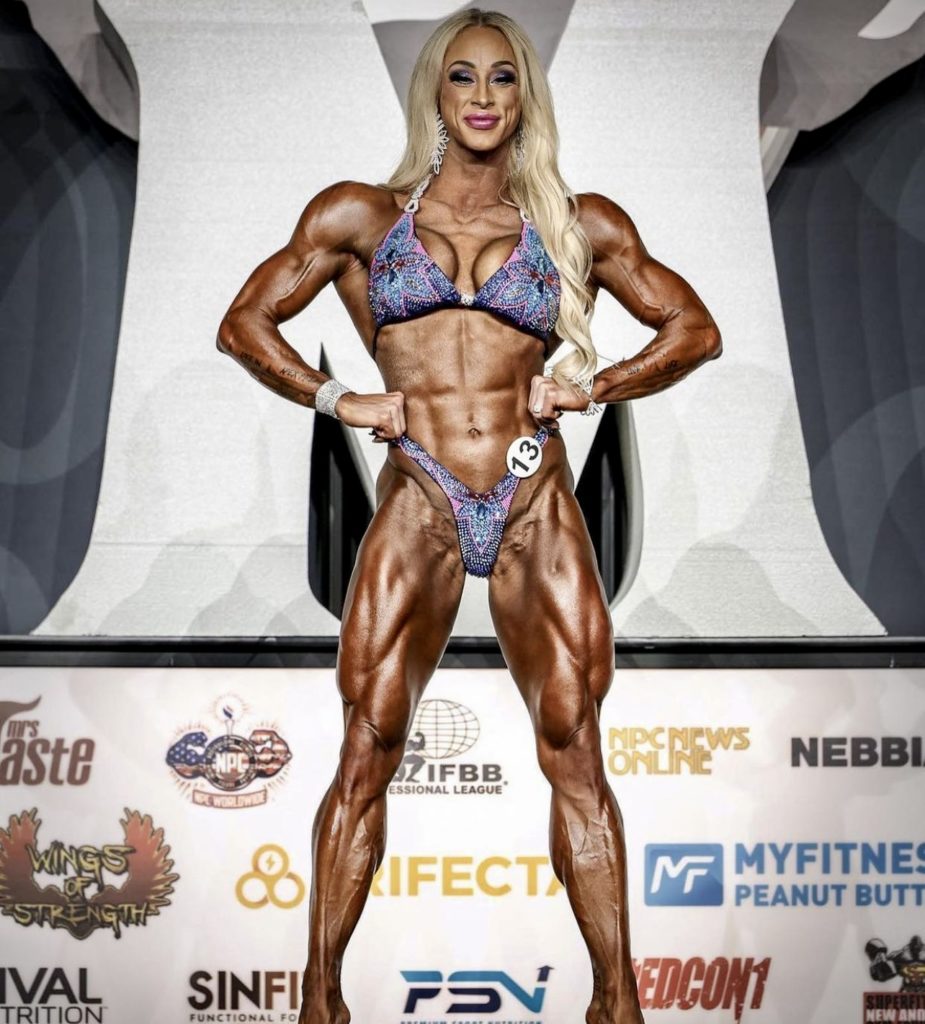 Missy Truscott, last years Fitness Olympia champion, dropped down to second this year after just winning the 2021 Arnold Classic only two weeks earlier. Missy has the best physique in the Fitness Olympia division with a great V-taper and excellent conditioning. She performed the same routine she did at the Arnold and this may have made a difference in the presentation round.

The legendary Oksana Grishina, 4x Fitness Olympia champion and 10x Arnold Classic Fitness champion, took third place this year. Oksana presents some of the most innovative and exciting routines in the division but her physique doesn't have the size and hardness currently preferred by the judges to place higher. The extremely talented Ariel Khadr, former Tampa Pro Fitness winner, placed fourth in this year's Fitness Olympia, repeating her placing from a year ago. Ariel is a rising star in the fitness division. Jaclyn Baker, coming off a fourth place at the 2021 Arnold Classic, also duplicated her placing from last year at the Fitness Olympia, taking fifth place.

Figure Olympia Cydney Gillon won her fifth Figure Olympia title this year. Cydney has the perfect proportions for the figure division with an extremely tiny waist, wide shoulders and excellent legs.

Her presentation onstage is fantastic and she is a dominant competitor in Figure. Natalia Soltero from Mexico was in second place.

Natalia is not a tall competitor but she also has the perfect proportions to place high in this division. She won the Arnold Classic Figure division last year and repeated her runner-up placing at the Fitness Olympia this year as well. Her conditioning at the 2021 Figure Olympia was spectacular. Stephanie Gibson made her Olympia debut and took a very strong third place. Stephanie won her first pro show earlier this year at the 2021 Lenda Murray Savannah Pro before making her debut at the Fitness Olympia. She is a young competitor who has a very bright future. Jessica Reyes Padilla, competing in her sixth consecutive Figure Olympia, moved up from sixth place last year to fourth. Jessica won both the Puerto Rican Pro and the Europa Orlando earlier in the year. She always displays excellent conditioning every time she competes and she has one of the best walks onstage during her routine. Fifth place went to Nicole Zenobia Graham. Nicole won the Rising Phoenix Arizona Pro earlier this year and she was in fantastic condition again for the 2021 Figure Olympia.

Women's Physique Olympia Sarah Villegas won her second consecutive Women's Physique Olympia title after her upset victory last year over defending champ Shanique Grant.
Sarah displayed excellent condition again at the 2021 Women's Physique Olympia and this allowed her to hold off a strong challenge by the young veteran Natalia Coelho. Natalia, a 2x Arnold Classic Women's Physique champion, really pushed Sarah hard for the title this year with her great aesthetic shape and sliced conditioning.

Her legs, in particular, were really outstanding. This was Natalia's second runner-up spot at the Olympia so she will be back to try to win next year. Another break out star at the 2021 Olympia weekend was Brooke Walker, winner of 2021 Europa Phoenix Pro.

Competing in her first Olympia, Brooke radiated confidence onstage with her great smile and rock hard physique. Novice competitors should take note of Brooke's appearance at this year's Olympia to learn how to project yourself onstage as she did it perfectly. Watch for Brooke next year, she is a rising star in the Women's Physique division. Barbara Menage repeated her fourth place at the Women's Physique Olympia this year. Barbara has a great V-taper and excellent leg development in this division. Ana Harias placed in the top five at her first Olympia. Ana won the Optimum Classic Pro earlier in the year and has a great future in the Women's Physique division.

Men's Physique Olympia Brandon Hendrickson won his third Men's Physique Olympia title this year, retaining the crown from last year.
Brandon has fantastic development in his upper body and his conditioning was on point this year to allow him to again dominate the competition. Brandon seems to have the winning formula to hold onto the title of Men's Physique Olympia.

Erin Banks, winner of the 2021 New York Pro, was a surprise second place finish in his first year as a professional. Erin is very tall and wide and this helps him to stand out in the line-up. He made improvements from his win at the prestigious New York Pro and he plans on doing the Arnold Classic in 2022. Diego Ferreira Montenegro, winner of the 2021 Puerto Rico Pro, vaulted all the way up to third place at this year's Men's Physique Olympia. Diego has an excellent V-taper with thick muscularity in the upper body and he placed a strong third place this year. Kyron Holden, winner of the 2021 Pittsburgh Pro, is another competitor with great size and definition in the upper body. Kyron dropped down to fourth place this year after two consecutive third place showings at the 212 Olympia in 2019 and 2020. Raymont Edmonds, 2019 Men's Physique Olympia champion, dropped down to fifth place this year after taking the runner-up spot a year ago. Raymont looked like he could have been a little harder this year compared to previous showings.

Bikini Olympia Jennifer Dorie, 2021 Arnold Classic Bikini Champ, is the new Bikini Olympia champion! After placing second to Janet Layug last year at the Bikini Olympia, Jennifer was the favorite going into this show and she brought the perfect combination of shape and conditioning to win the title.

Popular Lauralie Chapados jumped from fifth place to the runner-up spot this year at the Bikini Olympia. Lauralie also won the Chicago Pro and the Powerhouse Classic earlier this year.

She has a very athletic and lean look which many bikini fans love to see. Ashley Kaltwasser, one of the most winning pros in the IFBB with a record 29 professional victories, placed a strong third this year at the Bikini Olympia.

Ashley has won 8 pro bikini competitions this year alone and she should beat the record set by Dexter Jackson for pro wins next year. Maureen Blanquisco, winner of the 2021 Janet Layug Battle of the Bodies, was a surprise fourth place winner at the 2021 Bikini Olympia. Maureen was only competing in her second Olympia and she moved up from 9th place two years ago to take fourth against this tough competition. Elisa Pecini was in fifth place this year at the Bikini Olympia. Winner of the 2019 Bikini Olympia, Elisa dropped down to sixth place last year but won the Tampa Pro earlier this year and she seemed to be on the comeback trail for another possible win at the Olympia. However, she took fifth place this year, moving up one spot from last year's Bikini Olympia.


212 Bodybuilding Olympia Derek Lunsford won his first 212 Bodybuilding Olympia this year by defeating last year's champ Shaun Clarida in a very close decision.

Derek has been talked about as a potential winner of this division for the last three years but he was never able to hit his peak. This year, Derek peaked perfectly to showcase his superior structure, great muscle mass and outstanding condition. Shaun Clarida, 2020 212 Olympia champion, was a few pounds heavier this year but he brought the same winning package as last year. Shaun's smaller frame is packed with dense muscle thickness combined with hard, grainy conditioning. He did all he could to retain the title but was beaten this year by Derek who had a better overall structure.

Kamal Elgargni, 2019 212 Olympia champion, returned to the stage after losing the title last year to Clarida.
Kamal has a nice structure with good lines and great conditioning. This year, he brought his best combination of size and hardness in an effort win back the 212 Olympia title. However, he could not overcome the perfect structure of Lunsford and the dense muscle size of Clarida and dropped down to third place.


Angel Calderon Frias moved up from 7th place at last year's 212 Olympia to fourth place this year. Angel was one of the hardest competitors onstage and his dense muscle mass packed onto his smaller frame makes him a force to be reckoned with in any line-up. Nathan Epler, making his first Olympia appearance, took a strong fifth place. Nathan is one of the taller competitors in this division but he has outstanding leg and glute development and superior conditioning. He will move up in the 212 class as he continues to add more thickness to his upper body.
Wheelchair Bodybuilding Olympia Now in its fourth year, the Wheelchair Olympia division features competitors who are confined to a wheelchair but have still developed outstanding physiques. The winner this year was again Harold "King Kong" Kelley who has now won the title all four years. Harold's massive size and conditioning makes him a stand out in the Wheelchair division. Rounding out the top five in the Wheelchair Olympia division was Gabriele Andriulle in second place, Antoni Khadraoui in third, Adelfo Cerame Jr. in fourth place with Tyler Brey rounding out the top five.

Wellness Olympia This was the first year for the Wellness Olympia division and ten champions entered the inaugural event. The winner was Francielle Mattos from Brazil who defeated pre-contest favorites Angela Borges and Yarishna Ayala in a stunning upset.
Francielle had the look that the judges wanted and she gave a very heartfelt speech after her victory expressing her gratitude as well as her love for her family and supporters. Angela Borges took a close second place at the first Wellness Olympia.

Angela was a popular winner earlier this year at the Pittsburgh Pro and was one of the favorites going into the Olympia. Isabelle Nunes moved into the third place spot. Not one of the more well known Wellness competitors, Isabelle won the 2021 Milwaukee Pro earlier this year. A confident Yarishna Ayala took fifth place at the Wellness Olympia.

Yarishna won the New York Pro this summer and was expected to be one of the top contenders at this first Wellness Olympia but her condition looked to be a little off at this event.

Special Thanks to the Legends PPV Cast; Lee Haney, Rich Gaspari, Shawn Ray, Lee Labrada, Lenda Murray Robyn Maher, Mindi O'Brien, Mark Anthony and Tim Wilkins along with John Hansen & Isabelle Turell

Also we salute Olympia CEO, Jake Wood, Promoter, Dan Solomon Amateur Olympia Promoter, Tamer ElGuindy, Expo Producer, Tim Gardner and the entire Olympia Team for a job well done!
Follow journalist, John Hansen on Instagram at: @johnhansen1
Visit John's web site at: https://www.johnhansenfitness.com/
Check out John's weekly Bodybuilding Legends Podcast on your favorite streaming station

Editor in Chief.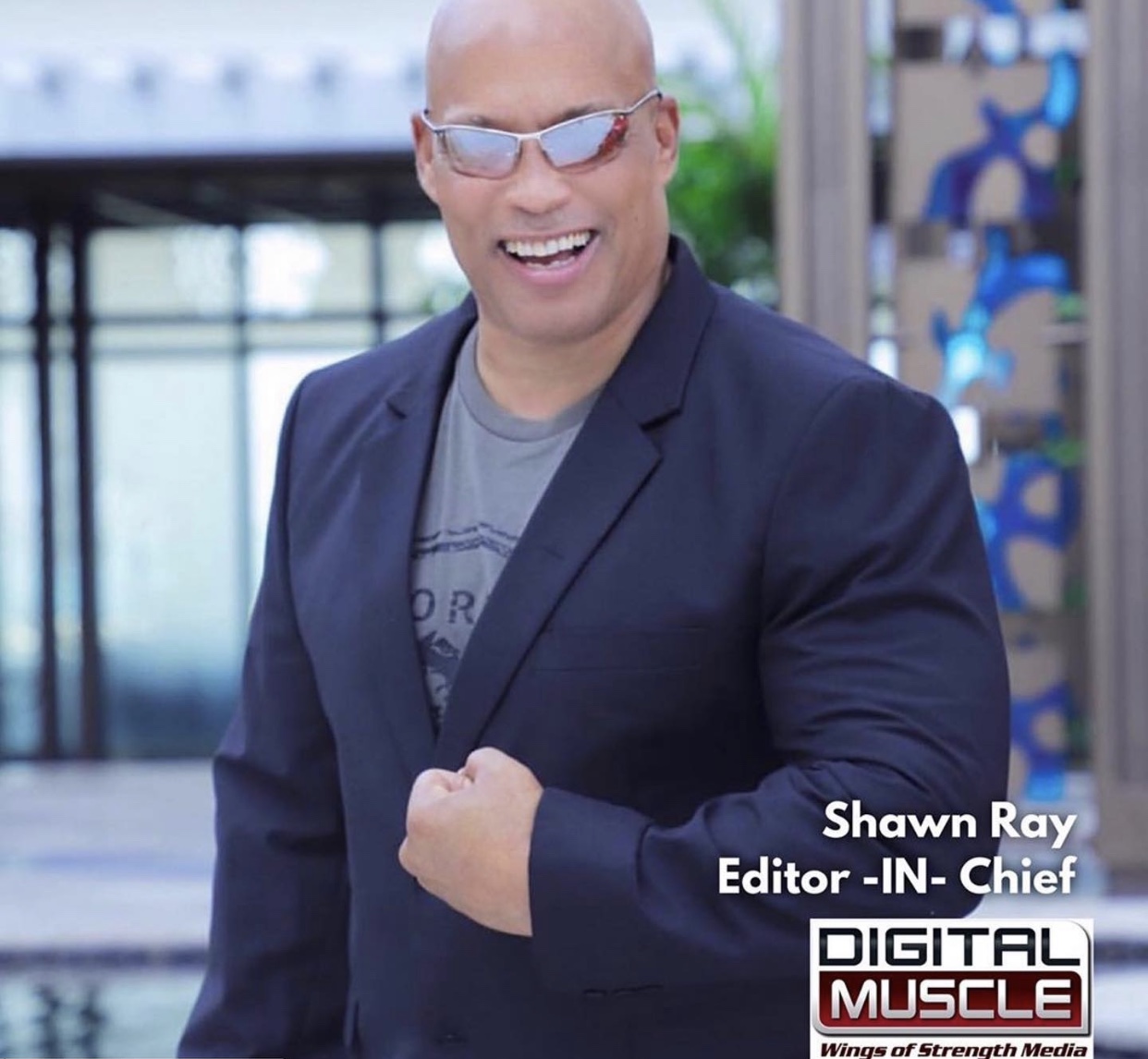 12x Olympia Top 5 Finalist, Pro Bodybuilding Hall of Fame Inductee, International Master of Ceremonies, NPC Contest Promoter, Motivational Speaker, Social Media Influencer, Fitness Journalist