By Shawn Ray

10- Where's Phil Heath? Following 9 consecutive Mr. Olympia appearances that included a run of 7 consecutive victories tying Arnold Schwarzenegger and joining Ronnie Coleman along with Lee Haney as the only four men in the history to lay claim to the title that many times, Phil took a deliberate step off the stage following a devastating loss to Shawn Rhoden in 2018 where he placed 2nd and lost his title. Phil has never accepted the defeat from a year ago and announced he was going to have a second abdominal corrective surgery related to a previous surgery that didn't heal properly and therefore a much needed self imposed hiatus from the competition stage wound take place the coming year. Phil's competitive spirit was noticeably missing on the Olympia stage and press conference needless to say, he appears to be on the fast track to a full recovery as 2020 begs the question, "Will Phil return to try for a record tying 8th Mr. Olympia Win in September?
9- Tyler Manion appointed new NPC Vice-President! Son of famous NPC Online Photographer J.M. and grandson to NPC/IFBB Pro League President, Jim Manion appointed Tyler to oversee and run the National Physique Committee he's grown up in his entire life. From infancy through High School and College, Tyler has witnessed and judged more contests than can be remembered by now and looks to have a firm grasp on how this industry work and is run by two of the most accomplished relatives in the sport! Tyler brings an abundance of new and vibrant ideas along with youth and stamina to travel the global ensuring the future and welfare of our sport with the globalization of the NPC Worldwide!
8- IFBB Pro Cards: The rapid expansion of the IFBB Pro League has afforded athletes in countries that were suppressed  for many years and decades from having legitimate opportunities to earn the highly valued IFBB Pro League Pro Card that affords the athletes an opportunity to compete in the Super Bowl of Bodybuilding "Mr. Olympia!" The creation of competitive events in the global market now has athletes competing on center stage from countries like; China, Russia, Iran, Japan, Romania and more that simply never existed prior to the creation of the IFBB Pro League. On any given weekend athletes from around the globe now have opportunities to compete, win and advance to the Olympia Weekend that eluded them in the past.
7- Passing of Legend, Franco Columbu. On August 30, 2019, after experiencing heart failure while swimming off the coast of San Teodoro, Sardinia, Columbu was drowning and later died during transportation by helicopter to the hospital in Olbia. He was 78 years old. The former 2X Mr. Olympia Winner 76-81' was also a very successful world renown Chiropractor, Strongman and Arnold Schwarzenegger's lifelong friend and training partner.

6- Mr. Olympia Sold Out! The Sun has set on the Joe Weider 55th Mr. Olympia competition held in Las Vegas, Nevada this last September and the Numbers don't lie. The weekend was different in numerous ways but most notably the Friday Night addition of the Finals for the 212lb Pro Men Bodybuilding! The champion was crowned on center stage for the first time in history and the audience was over joyed by this addition. Saturday left not a Single Ticket to be had following the intense Prejudging battle for the vacant title plus the hugely successful Webcast brought to us by the Chapman Media Group and sponsors IHerb.com, Trifecta and Wings of Strength with broadcast by Co-Hosts, Tim Wilkins & Lenda Murray on DigitalMuscle.com!
5- Athleticon 2020 and "The Rock" Dwayne Johnson new show! The buzz is beginning to become a roar as we close out 2019! The IFBB Pro League & The Rock in cooperation with promoter, Dani Garcia, Director, Robin Chang have set the date for October 11h in Atlanta, Georgia as the site of the long awaited venture into bodybuilding and fitness. Buzz has it that the post Mr. Olympia event will feature a massive expo, Olympia quality line-up and an amateur international line-up rivaled only by the amateur Olympia  contests held globally! 
https://www.menshealth.com/entertainment/amp28966099/the-rock-dwayne-johnson-dany-garcia-athleticon/
4- Wings of Strength Ms. Olympia Reunion of Champions! For the 1st time in Female Bodybuilding History, a gathering of the World's Best Built Women gathered together to be celebrated onstage during 2019 Mr. Olympia Weekend in Las Vegas as a mix of the Past Winners met today's Present Champions directed by former WOS Rising Phoenix Champion, Alina Popa who placed 2nd in the last Ms. Olympia ever held. We witnessed all time greats like 10X Winner, Iris Kyle, Carla Dunlap, Kiki Elomma, Yaxeni Oriquen, Dayana Cadeau, Lenda Murray, Andrulla Blanchette join present champions like, Margie Martin, Helle Trevino and Alina Popa center stage to be recognized for their contributions to the sport of Professional Bodybuilding!
3- Sultan of Symmetry, Flex Wheeler Amputation. The news of Hall of Fame Bodybuilder, Flex Wheeler posing his leg below the knee shocked the fitness community in more ways than one. This Icon has been a pillar in the industry since turning Pro by winning the 1992 NPC USA Championships added to his 3 1st Runner-up placings in the Mr. Olympia and 4 Arnold Classic Titles! Flex is home resting and recovering now following his Comeback to Olympia Classic Physique competition 2 years ago. According to Wheeler, the amputation was his final course of action due to complications with his vascular system and a collapsed Vein in his leg which caused blockage. While still facing a long and winding road to recovery, Flex keeps his fans updated on his day to day progress via his Instagram account. 
2- Mr. Olympia Announces New Promoter, Dan Solomon! As the Joe Weider Mr. Olympia turned 55 years old, the announcement of a New Promoter was the last thing fans of the Iron Game wanted to hear until they heard who the chosen one would be which was none other than former Digital Muscle Media & Pro Bodybuilding Weekly Radio Host, Dan Solomon! Dan, whom had never promoted a contest in his life was hand picked to lead the sports biggest event of the year in a direction only a visionary could see in the form of AMI's CEO, David Pecker along with the blessing of IFBB Pro League President, Jim Manion. The instant "Credibility" factor that Dan brings to the table and his infinite wisdom of the sport, it's history and his relationships with media made him the obvious choice to lead the athletes and our sponsors. Dan has worked hard establishing himself over the past three decades in order to lead us into greener pastures of the Las Vegas Desert and when the dust settled looking back, he proved himself to be an instant Black Jack!
Here's looking at 2020 where we are certain to see an even bigger and better display of his sophomore edition of the Olympia Weekend September 9-12th!
• Initially I had the curious case of 2018 Mr. Olympia, Shawn Rhoden as my #1 Story, as he was formally charged with Three Counts of Rape in mid-summer of 2019 however, the case is still pending and it looks like its churning it's way through the Legal System in search of Justice so we don't know the outcome and I'm not one to speculate without all the Fact Finding and Evidence collected.
1- Which brings me to my personal choice of the years biggest revelation the Return of the Ms. Olympia Contest!
It's been nearly 5 years since 10-Time Winner, Iris Kyle took home her final Olympia Trophy & Check!
Jake Wood, CEO of Wings of Strength has worked tirelessly to keep the female component of Pro Bodybuilding alive hosting shows in Phoenix, Chicago, Tampa, Puerto Rico, San Antonio's and as far away as Romania in search of the Best Female Bodybuilder in the World! Finally, through a collective effort of Team Wings of Strength and the Olympia Organizers, it was announced on the main stage of the Mr. Olympia Weekend that in fact the Ms. Olympia Contest and Finals will be held at the Orleans Arena along with the other divisions being recognized as the best of the best! 

Congratulations to all the people who worked hard behind the scenes to bring this valuable component of our industry back home where it all began in 1980!


Editor in Chief.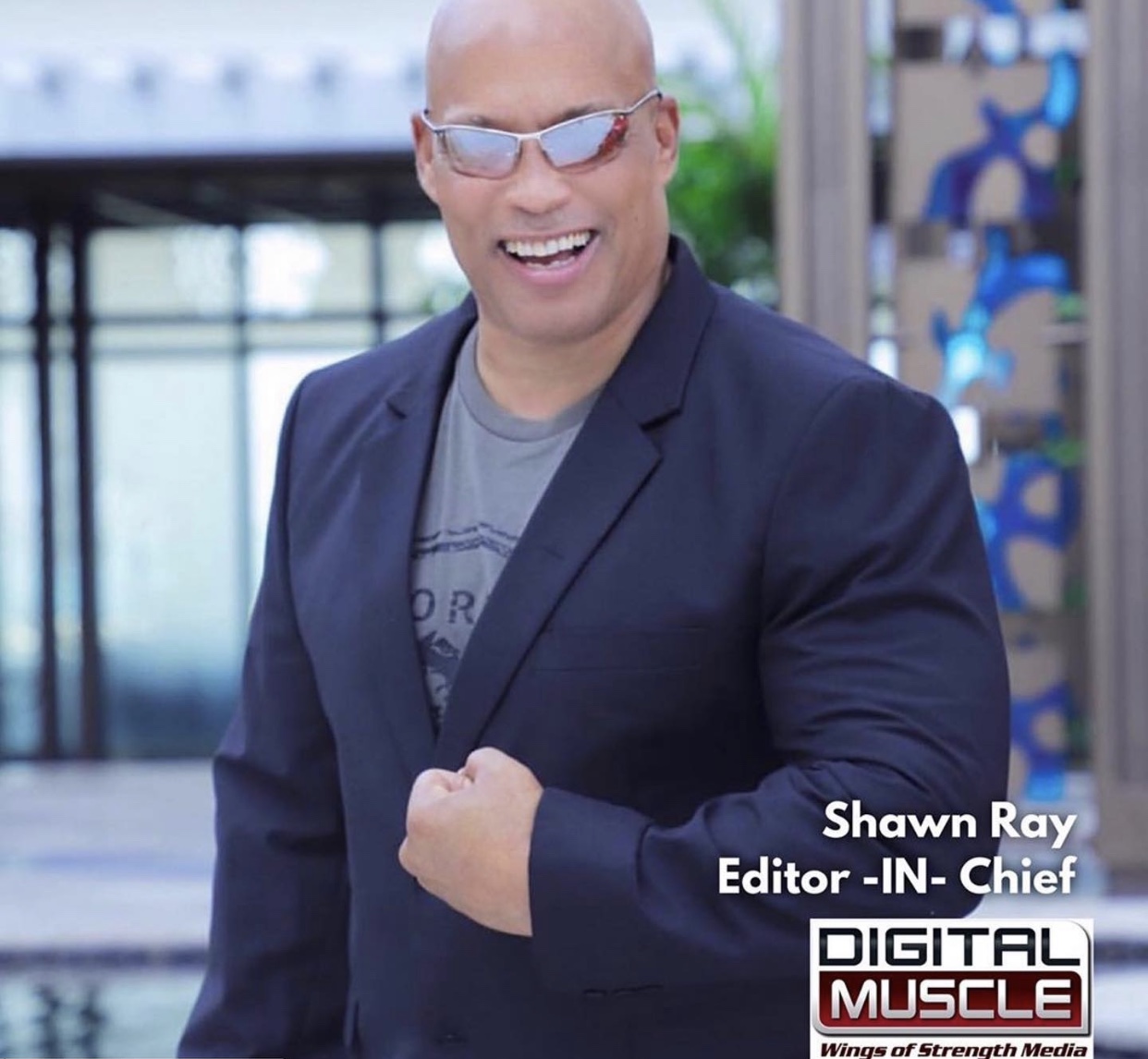 12x Olympia Top 5 Finalist, Pro Bodybuilding Hall of Fame Inductee, International Master of Ceremonies, NPC Contest Promoter, Motivational Speaker, Social Media Influencer, Fitness Journalist