On this week's episode of Pro Bodybuilding Worldwide Radio hosts Eric Broser and Dave Bourlet answer listener questions about why doing too much cardio before a show is unnecessary and how the Yates' Style HIIT workouts can benefit your long term progress. Finally, top trainer at Gold's Venice, Chris "Psychofitness" Lewis, stops by to talk about how and why he took over the training of both Dexter Jackson and Shawn Rhoden, and the changes he made to bring out the very best in each of these Olympia contenders. This week's episode is brought to you by Ironmag Labs and by House of Pain Apparel.
Use the player above to listen now or access show with this download link: http://bit.ly/2wEdx7R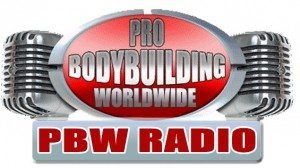 The Pro Bodybuilding Worldwide Radio Show, bodybuilding's radio voice, is presented by DigitalMuscle.com. Created in 2005 by Dan Solomon, the show is bodybuilding's longest running multimedia production. Listen to the broadcasts here or subscribe on iTunes.