By Mindi O'Brien
Being at the top of your game, and staying there for years, requires incredible determination, hard work, and notably, sacrifice. What are you willing to give up to get to the top – and stay there? For many, it becomes their career. Being a woman in a predominately male dominated industry, being a top tier athlete had to become my identity. 
My name is Mindi O'Brien, and I am a former IFBB Pro competitor in Fitness, Figure, Physique and Bikini, an 11 time Olympia competitor, and a 10 time Arnold Classic competitor.  I'm not just a competitor though, I'm also an entrepreneur – the proud owner of Mindi O's Fitness Studio, a show promoter – Co-Promoter of The Niagara Falls Pro/AM, as well as the Mindi O Show, and I'm also a very proud mother.  I began my fitness journey after a successful gymnastics career, and after having my son while still fairly young – I became a mother at 18 years old. I made a promise to myself that I would be a strong role model for him and thats where my Journey began.
We all have a story…and this is mine!
It all started when I had my son – I was only 18, and didn't have much money. I couldn't afford a gym membership at the time, so I made an arrangement with the gym owner  to run the local gym's daycare so I could have access to a free membership and bring my son to work!  Most days we would walk or bike 2hrs to get to and from the gym or to do our daily chores.  Being around some of the local competitors inspired me to get on stage in Fitness, and with my gymnastics background and my new-found love for weight lifting, I was absolutely hooked.  In 1996, I did my first competition, and that ignited my passion for the sport. 
Every so often, I think back on my life as a fitness competitor, and how the shows I competed in during the early stages of my career helped define the type of person I am today.  I faced adversity from other competitors 'protecting' their turf and attempting to sabotage my competition suit – as strange as it may sound, the gaggle of women who were trying to get under my skin wound up being an inspiration and a muse for myself. Under the face of adversity, I would always choose to rise above and exceed my own expectations, and to never give up just because someone else was trying to push me down.  It became a goal of mine following that incident that I would become a role model to my son to develop a thick skin, stand up for myself and never back down.  It also became a goal of mine to become an ambassador for all women who wanted to pursue their goals and blow past their potential – not just as a competitor, but in all aspects of life. 
It took 8 long and challenging years for me to earn my IFBB Pro Card. I had to compete across Canada, move to new cities, join new gyms … but in 2004 I finally earned my IFBB Pro Status at the CBBF Canadian National Championships. This competition meant everything to me.  I did everything thing I could  to solidify the win…I focused building my physique,  practiced hours upon hours working and perfecting both my fitness routine and posing and stage presentation.  There was nothing else I could have done.  I told myself I had to perform one solid routine, nail the comparison rounds and the rest was up to the judges.  I ended up winning my division, the overall title with unanimous first place votes and earning the Coveted IFBB PRO CARD!  Winning the title was incredible, but having my son see the dedication, the discipline, the commitment and the sacrifice that it took to get there and having him run on stage to give me a big hug and share the BIG WIN, and seeing how proud he was to see his mom reach her top goal was such an incredible feeling. (I actually have a picture of that moment, it's one of my favourites and will always will be)
Alright! 6 weeks later I made my Pro Debut at the South West USA Pro Cup in Dallas.  So as the newly crowned Canadian National Champion and the newest member of the IFBB ranks, it was time to step up to the next level.  Man oh man, just thinking about that gives me the chills still. Big fish from a small pond becomes a small fish in the big pond. I'm about to compete against legends now… against Tracey friggin Greenwood!!!  Ever think about the rookie quarterback in his first game squaring off against the future Hall of Famer? Yep, that was me, the rookie. Tracey was one of the very best at the time – she was going to be tough to beat. I just kept reminding myself of the fundamentals that brought me to this stage. Not me vs. Tracy. It was just me vs… myself. I had to get out of my own head. I just did what I practiced. Next thing I know… I'm being crowned the winner, and given an automatic Ticket to compete in the Ms. Olympia from my first pro show!  That doesn't happen too often.  I wound up taking home the IFBB Rookie of the Year, competing in the Olympia, then I received an invite to the  Arnold Classic/Fitness International right after that. Not too shabby for my first year in the IFBB, right? The one thing you'll see from an athlete like me is – once isn't enough. I had a taste for success now, and I wanted to keep repeating that success. 
The fitness division is one of the most grueling and most challenging  divisions in the Body Sport World.  This division is very taxing on the body and most fitness competitors are plagued with injuries from performing high flying gymnastics skills, jumps, kicks, etc. In 2011 I fractured my back on the Olympia Stage and was forced to retire from the sport that I loved so much. Although I could no longer compete in fitness, I still wanted to compete in the fitness arena.  My training couldn't be as intense as it once was, due to my back injury, I competed in the Figure Division.  Without being able to push my body in the gym and after discussing this with my coach, my husband, my therapist and my son, I decided to call it a day.  I needed to be realistic with myself and put my health first.  I needed my body time to rest and recover.  During the time away from the stage, we tried to expand our family. I ended up having multiple miscarriages and found myself falling into a dark place and feeling really down on myself. My husband encouraged me to go back to the gym, and possibly focus on competing again. I contacted my old coach, Mike Davies, and asked him if he thought I could compete in the New Women's Physique Division.  Eight weeks later, I made my debut at the Toronto Pro show placing 3rd and with that, I knew this new division was meant for me.  I went on to win a few Titles, and earned my way back onto the Olympia stage placing in the top 6 and placing 3rd at the Arnold Classic. I wound up being an IFBB Pro for well over a decade before announcing my retirement at the 2016 Olympia stage.
After looking at pictures and watching the bikini competitors compete, I thought that would be a great challenge for me. I truly believe your brain is your most powerful tool and I believed that I could transform my body that would fit that mold! After having a few conversations with people who I respected in the industry tell me that it was impossible for me to transition from Women's Physique to Women's Bikini, I quietly took on this challenge and within 10 months I was stepping out onstage competing on the Master's Bikini Pro Stage. I walked away with a 3rd place finish. I believed that I could do it. I wanted to challenge and prove to myself that I could be a diverse athlete through training, nutrition, cardio, visualization…I transformed into a tight and tiny bikini competitor. After competing in every women's division in the IFBB, I now have an appreciation and respect for ALL divisions. They are all so different in forms/methods of training, cardio, nutrition, mindset, etc. (I will share my experience in upcoming future articles). For me, I did my absolute best to leave an impact in every division I competed in. I'm honestly very proud of my career!
Since 1992, I have been honing in my skills and knowledge to bring a competitive package to the stage, and that dedication has taken me across the world to various competitions, be featured on covers of magazines, sponsorships, receiving the LIFETIME ACHIEVEMENT AWARD,  to have the opportunity to be coached by some of the best coaches in the world,  meet some incredible life-long friends. I am so grateful and appreciative for everything that the fitness world and competing in the IFBB Pro League has offered me. 
I am now retired from the competition stage, my son is all grown up – empty nest now. He's done great – married, job, house, good education. What more can a mother ask for? My son has always been my number one priority and he has always made me want to work hard and be a positive role model for him. The goals never stop. Always setting goals is key for growth and success.
Since the early 2000s, I have been working tirelessly to build my brand. It started as YOU, ONLY BETTER, then morphed into TEAMOBRIEN FITNESS, and has evolved into Mindi O's Fitness. I have been working for the better part of two decades to develop a team of powerful, strong, talented women who want to improve their lives.  Every individual comes in with their own set of health and fitness goals and it is my passion and desire to guide each client along their own personal path.  It is about the journey and when each client reaches their goals, it's a personal feat that comes with a team that celebrates in this success as well. My ultimate goal is to help women from all walks of life, transform their bodies and their lives through proper nutrition, strength training, cardio and supplementation protocols.  I want to help women unlock their full potential.
I realized that my own personal goals weren't necessarily done! I'm a Niagara Region girl through and through, and I wanted to bring my passion home with me. I couldn't think of a better way than bringing in two amazing competitions that I promote, the Mindi O Show and the Niagara Falls Pro/AM. It all started with the Mindi O Show coming to Niagara in the early 2010s, and it has only gotten better every single year. I take great pride in this event, and I've been so happy to watch new champions crowned every year, with a ton of familiar faces year in and year out. I get to watch people reach their personal goals on my very own stage! After finding success with the Mindi O Show, I decided it was time to take the "next step" and try and bring a Pro Show to Niagara. I knew it would be a daunting task as there were some preliminary hurdles, and being a woman in a predominately male-dominated industry was certainly one of them. I definitely felt as though I needed to prove myself. I aligned myself with one of the biggest names in bodybuilding and the 'VOICE" of the Olympia, Bob Cicherillo and together the NIAGARA FALLS PRO/AM came to fruition. With great dedication, a solid team and co-promoter, coupled with a beautiful venue, we were able to put on quite the show!
Over the years, I have had many opportunities to be part of some big events.
Thanks to Dan Soloman who trusted me to work alongside the Producer of the movie BIGGER at the 2018 Olympia.
This year I was given a once in a life time opportunity to be part of the 2020 Olympia PPV Live Coverage team. (I always wanted to have the opportunity to do the commentary for the events and this year it came to fruition.)
I want to thank Mr. Jake Wood, Dan Soloman and Shawn Ray for believing in me and allowing me this opportunity to part of this magical event.
My newest goal is to be one of the main voices of the IFBB – championing the commentary for the women's divisions. I think I have what it takes – I've been on stage for every division in the IFBB, I know how the shows work, and I know the who's and the why's. I've been incredibly fortunate to have met some amazing people who have helped me get to where I am, but I think a lot of that also comes from my hard work and my attitude towards the sport. I hope you will all get to hear my voice for years to come as I continue to give back to this incredible sport. 
I have to thank everyone who has been a part of this incredible journey – I couldn't have done it without all of the love and support I have received throughout the years, and I'm so appreciative of everyone! All of my family has always been there to have my back through the success and the downs, through the injuries and the trophy wins. We have always been there for one another, and I know they'll have by back in my next chapter. I still have a long road ahead of me – and I hope I can make many more friends and mentors throughout my life.
Editor In Chief.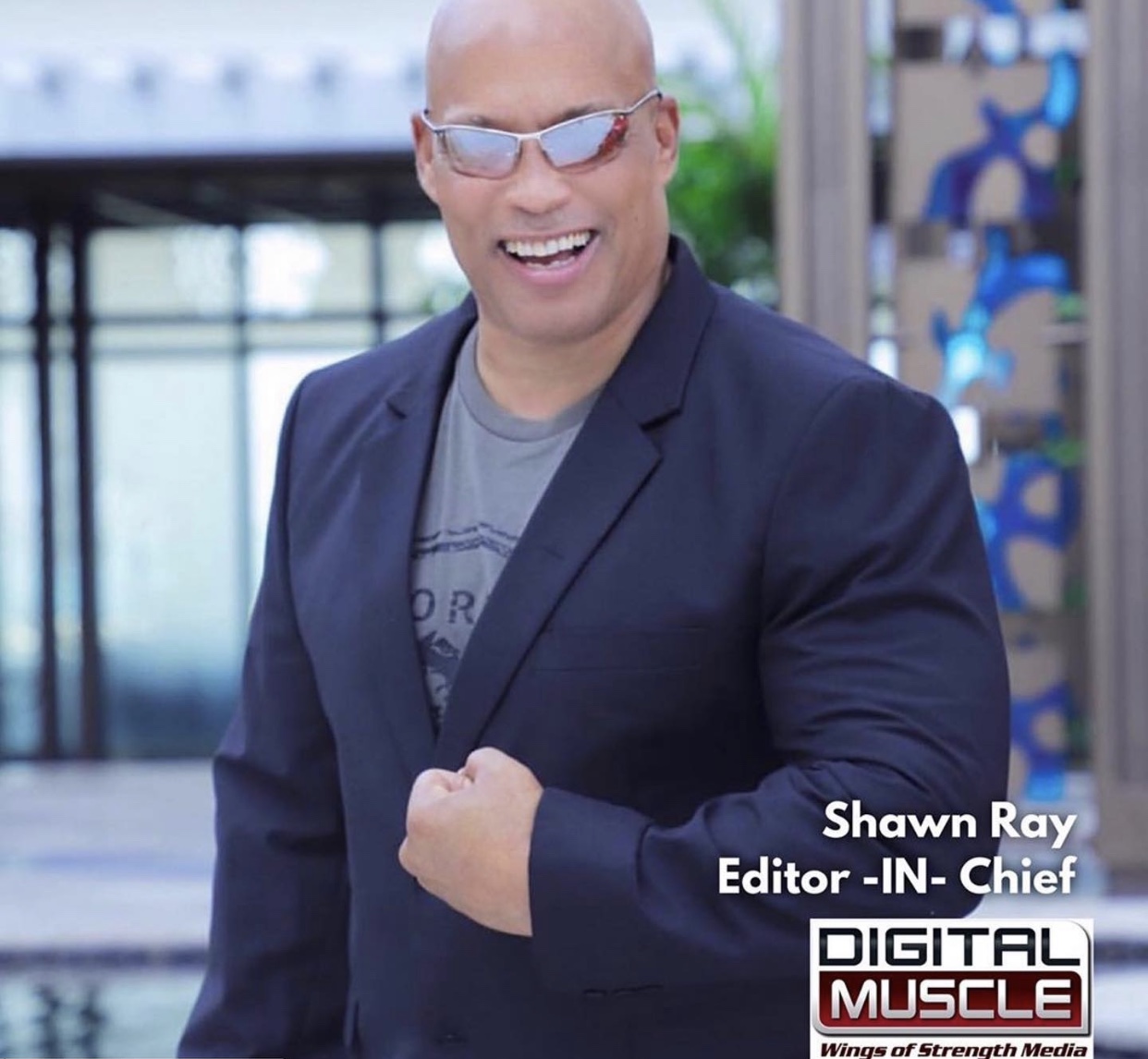 12x Olympia Top 5 Finalist, Pro Bodybuilding Hall of Fame Inductee, International Master of Ceremonies, NPC Contest Promoter, Motivational Speaker, Social Media Influencer, Fitness Journalist