A message to all the female athletes who are working on finishing touches for your NPC and IFBB Competitions.
You've spent months, some of you even years, creating the most aesthetic, toned and conditioned physique you can.  Now it's time to bring it to the stage with the finishing touches.  This includes skin tone, makeup and hair. Yes, we are judged on all the above! We wouldn't go on stage without tanner or oil, so why would any female think to go on stage without makeup?  In my mind, it's crazy, but I've seen it happen….all the time!
Years ago my niece asked me why I put makeup on just to go to the store… I replied, "Well, I was kind of raised that way." She didn't understand, so I went on to explain how my mom encouraged me at a young age to present myself with poise and confidence, which included makeup. It was easy for me to carry this value to the stage.  My mom used to teach the State Boards in NY, and I grew up assisting her since I was about 12 years old.  I started doing theater makeup by myself in 1990 (10th grade) and began to study the lighting and also angles of each actor/model's face. I learned contouring before it was popular to contour- lol!  Years later when I found myself on stage I started to learn about makeup companies and which were the best for professional makeup. In 2004 I started working for MAC Cosmetics and went through many advanced training certifications. Since then I've continued my education and certifications in makeup and esthetics in Colorado, Las Vegas and Los Angeles.
As you book your appointments for hair and makeup, please know there's a BIG difference between someone who "does makeup" and someone who is a Professional Makeup Artist. When you choose an artist, please be sure he or she is professional and experienced in stage makeup for our industry, the NPC/IFBB. There are many good artists out there and I am not about to take away from anyone else's talents and training (as long as they are truly talented and trained).  Myself and just a few other amazing artists have pioneered Makeup Artistry in this sport… (Such as Elaine Goodlad, Laurie St. Michael, Nancy Jambazian and J. Zubire…)
If I am not personally at a show, I will either have a team there or can recommend an artist who will take care of you. And of course if you are talented at doing your own makeup, but would like some additional tips and tricks, I am happy to talk with you any time!
I am the Official Makeup Artist for the Rocky Mtn. NPC and because I know that one artist cannot possibly take care of each and every competitor, I hire a team of skilled, experienced artists and hair stylists who help me to fully articulate your best look on stage AND in photos. This is the same for my friends and fellow artists with whom I travel… Laurie and Elaine. We learn from each other, feed off each other's energy, work together and have a great camaraderie. While we each have our own businesses, we are always a great team!
You can check out my Instagram or Facebook for all the 2016 shows I am booking for.
PS- These are a few of my favorite things…
Foundation: Stila Stay All Day (#15 or #16 depending on tanning product)
I also use a highlight in 2-3 shades lighter.
(Note, MAC Studio Fix Fluid and ProLongwear  Foundations are great options as well)
Mascara: MAC Zoomfast waterproof (won't run on stage)
Eye Liner: Urban Decay 24/7 eye pencil (Perversion or Yeyo in the water seal)
Gel Liner: Inglot AMC Eyeliner Gel #77 For the best winged liner yet!
Lashes: Demi Whispies, Whispies, 415 or 45 (don't go too heavy or it will take away from your natural beauty)
Powder: Ben Nye Banana Powder
Chaundra M. Tangi
Certified, Professional Makeup Artist with over 25 years of stage makeup experience and over 15 years experience in NPC/IFBB stage & photoshoot makeup.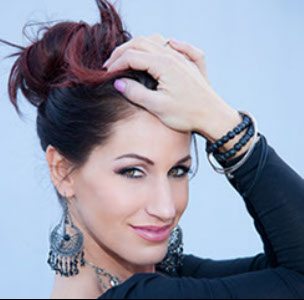 After losing 62 lbs, Chaundra capped off a total transformation and began competing in 1998, placing 5th at her first bodybuilding show. Only 5 shows later, she won her class at the inaugural Figure Nationals, becoming one of the very first IFBB Professional Figure competitors. For nearly 20 years she has helped her clients achieve their goals, sharing a passion for peak performance. When she's not volunteering as a World Vision Child Ambassador, you'll find her behind the scenes as a coach to several elite athletes. Chaundra is also regarded as one of the fitness industry's premier make-up artists.