By Matt Samansky
Supplement Review Editor
In recent years, we have seen the advent of healthful, creative and guilt-free protein packed snacks for the health conscious individual. Meal replacement bars, sugar-free puddings, and quite possibly most intriguing, the diet-friendly cookie!
The newest fit-food company to try their hand in the protein cookie market comes all the way from Nova Scotia.
Established nearly four years ago, Mama T's delicious and nutritious recipe has been making waves exclusively throughout the Great White North. When a product is this good, however, it cannot stay a secret for very long.
I was first introduced to the delectable dessert by NPC competitor and IFBB coach Matt Jansen, who constantly posts "appetizing" photos to his Instagram account (@mattjansen8).
Other advocates of Canada's favorite cookie are IFBB professional competitors Julian Colley, Krissy Rains, and Justin Compton.
I've sampled protein cookies by other popular companies, namely Lenny & Larry, but I'm always looking for healthful alternatives to satisfy my sweet tooth. It's only a matter of time before Mama T becomes the market leader because L&L does not hold a candle to the product I bring to you today.
Not only are Mama T's the tastiest protein cookies on the market, but the healthiest. Made from a real food recipe consisting of whey protein, eggs, oats, natural peanut butter, organic honey, cultured butter, dark chocolate chips, flax meal, and of course a blend of secret spices. Although other protein cookie companies tout greater flavor options, they are often filled with chemicals synthesized in a lab.
Why waste your time with a myriad of flavors when you can perfect a few? Oatmeal Chocolate Chip, Chocolate Macaroon, and Walnut Carrot Cake round out the trio of flavors baked by founder Tracy Ferguson.  Macronutrients of each variation range from; 280–380kcal, 10–16g of fat, 26-41g of carbohydrate, 16–21g of protein, 5–12g of fiber, and 5–10g of sugar per one serving of one 100g cookie. As compared to Lenny & Larry which offers two servings per cookie at 180kcal, 7g of fat, 26g of carbohydrate, 8g of protein, 4g of fiber, and 15g of sugar.
There is no "wrong" way to eat Mama T's specialty protein cookies, however they are a treat best served warm, microwaved for 10-15 seconds.
Unfortunately, Mama Ferguson's homemade treats are not yet available at retail locations in the United States, however a package of 12 cookies can be ordered for just $31.90 USD (41.99 CAD) at http://www.mamat.ca. They are a bit pricey, but as we always say here at DigitalMuscle.com, you pay for quality!
Despite their rather high price and inability to be purchased at your local health-food store (for now), Mama T's protein cookies are among the best protein packed snack on the market! From a taste, ingredient, and overall quality standpoint, they are unmatched, and it's only a matter of time before Canada's favorite guilt-free sweet is a household name in the States!
"Why can't I buy these at my local supermarket?" rating: 3/10
"Shipped from Canada…but worth the wait." rating: 10/10
Overall rating: 9/10
What's YOUR favorite protein snack? As always, shoot me a tweet or drop me a post about any supplements YOU would like to see me review. My contact info is listed above!
Looking for more reviews? Check out my Supplement Review Blog Right Here at DigitalMuscle.com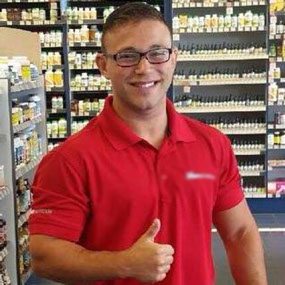 After a series of concussions ended his high school wrestling career, Matt discovered bodybuilding, quickly immersing himself in the world of fitness, nutrition and supplementation. A National Academy of Sports Medicine Certified Trainer, Matt founded UFit Sports Performance and Nutrition and has helped dozens of clients achieve their fitness goals. Having tried and tested countless supplements, Matt is highly regarded as a credible evaluator of nutritional products.