Buckle up, boys and girls. This week's supplement review is the first of it's kind. I have searched the wide world of the Internet for a review of this product to no avail, so I present to you, IntraCell 7: Primeval Labs' newest supplement. Following with my pattern of reviewing intra-workout supplements, IntraCell 7 is a product to be taken in between sets to help fuel the muscles through your most grueling workouts.
IntraCell 7 was formulated under the careful guide of Jerry Ward. For those who are unfamiliar with Jerry's work, he is a man of many names and trades. He is the owner of BioS3 Training, a contest prep coach, an interviewer for the NPC News Online, a magazine columnist, a former contributor to the Gear'd Up Podcast, and host of BioS3 YouTube channel in which 120,000+ people subscribe. Jerry has done it all in the fitness industry, except formulate his own products…that is, until now.
At two-scoops per serving, IntraCell 7 delivers 20g Highly Branched Cyclin Dextrin, 2g L-Taurine, 2g Glycerol Monostearate, 2g L-Leucine, 1g L-Valine, 1g L-Isoleucine, and 1.5g Nitrosigine®.  If you're surprised to see two-scoops elicit just one serving, you are not alone. I shared your shock until I saw the size of the scoop, which is smaller than most. To put it in perspective, one serving of IntraCell 7 yields 15.5g of powder as compared to one-scoop of Prime Nutrition's Intra-MD, which yields 48g of powder.
If you've been following my weekly product reviews (which I know you all have), you know a bit about the ingredients listed above. If you are behind on my content, however, and these compounds confused you, do not fret.  Step inside my office for supplement ingredients 101.  We all know, like calories, macronutrients are not created equal, especially carbohydrates. Highly branched cyclin dextrin is the most advanced carbohydrate money can buy, manipulating the osmolality of the nutrient allowing for the release of glucose directly to the muscle.
L-Taurine is a powerful amino acid with powerful implications including energy increase, muscle contraction, and fat oxidation. Studies show when Taurine is supplemented during exercise; fat metabolism increases by 16%!
Glycerol monostearate hyper-hydrates the cells to increase absorption of nutrients such as the holy trinity of amino acids, L-Leucine, L-Valine, and L-Isoleucine. Considered "essential" due to the fact that they are not synthesized in the body, when supplemented in conjunction with one another, these amino acids enhance the ability of the central nervous system to recover from taxing workouts and improve glucose/insulin tolerance. Added benefits include muscle sparing, fat burning, and energy producing properties.
Finally, and most interestingly to me, Nitrosigine® is a relatively new product – researched, developed, and FDA acknowledged since 2014. This ingredient is a compound of arginine bonded with silica to improve nitric oxide and blood vasodilation. Silica is able to strengthen and increase vessel and arterial wall flexibility, if supplemented properly. What I mean by this is that silica is not easily digestible. However, when bonded with arginine, all of the previously mentioned benefits are enhanced.
Primeval Labs launched this product three weeks ago at the Arnold Classic. I am proud to say, I am one of the first to try it and I hope this review piques your interest in doing the same.
Quality of Ingredients: Each one of these ingredients are carefully selected and dosed by Jerry to elicit the optimal effect. There is not one component of the IntraCell recipe that I dislike; however, I do wish the dosage of each ingredient were a bit higher. 22/25.
Safety of Product: With great quality comes great safety. That does not sound as good as the original, but you understand. Not only are the amino acids found in this product naturally synthesized in the body, but Nitrosigine® is actually acknowledged by the FDA as a safe product. Not many dietary supplements can tout that distinction. 25/25.
 Effectiveness: My experience utilizing IntraCell 7 has been positive thus far. I have been supplementing with IntraCell 7 for approximately 14 days on top of a brand new diet, which yields only 200g carbohydrates. The diet began March 7 but I did not introduce IntraCell until the 16th. I felt tired, finding myself dozing off in class. My workouts lacked the intensity I had been used to from the dirty foods I would feed on. Upon introduction of the controlled substance (how scientifical did THAT sound?), muscle pumps returned and exercise intensity revved up to 120% (how un-scientifical did THAT sound?). One thing that I've been experiencing is excessive production of saliva, which, take this for what you will, had me nearly drooling throughout my workout. Needless to say, IntraCell 7 is very effective at hydrating the user. 22/25.
Price: Primeval Labs sells the 30-serving IntraCell 7 for $50. If you're frugal and choose to go the single-scoop route, you can stretch IntraCell out for 60 days. Going down that path, however, yields an even lower dose. IntraCell 7 is priced in the higher margin at approximately $1.66 per serving, but as with anything that costs money, you pay for quality. 19/25.
Overall: Jerry is a rookie sensation, stepping up to the plate and knocking a home run out of the park on his very first at bat. Can you tell I'm excited for baseball season? IntraCell 7 is available in two delicious flavors, Blue Razz and Watermelon. I highly recommend the latter! 88/100.
What do you think of the brand new rating system? Now that I've reviewed a few intra-workout supplements, which are you most excited to try? What is your intra-workout product of choice? As always, shoot me a tweet or drop me a post about any supplements YOU would like to see me review. My contact info is listed above!
And be sure to follow Jerry Ward on Instagram @jerrywardii and on YouTube (bios3training)!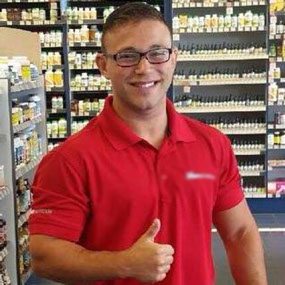 After a series of concussions ended his high school wrestling career, Matt discovered bodybuilding, quickly immersing himself in the world of fitness, nutrition and supplementation. A National Academy of Sports Medicine Certified Trainer, Matt founded UFit Sports Performance and Nutrition and has helped dozens of clients achieve their fitness goals. Having tried and tested countless supplements, Matt is highly regarded as a credible evaluator of nutritional products.