A tradition continues with the annual announcement of the Top 10 bodybuilding stories of the year.  Hosts Dan Solomon and Chad Nicholls reveal the biggest stories of 2016 during this special edition of Pro Bodybuilding Worldwide Radio. – Brought to you by Ironmag Labs, Wings of Strength and the DigitalMuscle.com Nutrition Store!
Use the player below to listen to the show here -or- access the show on iTunes -or- Download the episode.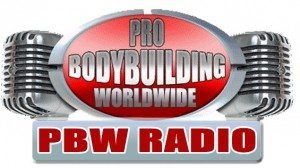 The Pro Bodybuilding Worldwide Radio Show, bodybuilding's radio voice, is presented by DigitalMuscle.com. Created in 2005 by Dan Solomon, the show is bodybuilding's longest running multimedia production. Listen to the broadcasts here or subscribe on iTunes.