By Shawn Ray
Coming into the world of bodybuilding in the early 80's, I gleaned all I could from the muscle magazines and photos on gym walls for inspiration. By 1983 I ventured into my first two contests back to back weekends in the summer of my Jr year in high school after six straight months of preparation. I was in awe of legends Arnold Schwarzenegger, Lou Ferrigno, Chris Dickerson and the soon to be Mr. Olympia, Samir Bannout who was just coming into his prime in the Fall of 83'.
I had just competed in the teenage Orange Coast Classic in Newport Beach, Ca taking home 2nd Place award and Best Poser Awards thanks to posing lessons with my mentor, John Brown. A week later at Fullerton Jr College, I'd compete against a similar line up and face a rematch with the winner from the Tall Class the previous week in the form of Tim Schneider, owner of the famous Bulldog Gym in Glendora, California. Tim was a good looking blonde kid standing near 6'0 tall and two years older than me, he reminded me of that bully in the movie Karate Kid but I was fearless and looking forward to a good fight!

As fate would have it, Tim and I would meet in the overall Posedown for the title of Gold Cup with me representing the winner of the middle weight class and Tim as the victor from the Heavyweight division. In predictable fashion according to my mentor, I'd lay claim to the overall title and and the Most Muscular and Best Poser Awards to my trophy case that weekend and find redemption in beating Tim the bigger but not better bodybuilder which instilled in me at that time a kind of reassurance that I was on the right path to becoming a true Giant Killer!
In the week between my loss at the Orange Coast Classic and the California Gold Cup contests I'd make the near one hour drive to Venice Beach and visit the Mecca where my idol's suddenly had breath in their lungs and movement to their physiques. Live and in living color there they were, training side by side at the world famous Golds Gym; Platz, Dickerson, Ferrigno, Bannout, Christian, Padilla you name it they were there!
I've heard it said by Marcel Proust, "Never meet the people you admire (or look up to), you'll be disappointed." In the case of these living legends I found quite the opposite to be true. In fact, decades later I'd become a life long admirer and friends with giants in our sport that I could never have imagined back in the summer of 83'.
Lee Haney, Arnold Schwarzenegger, Lou Ferrigno, Boyer Coe, Tom Platz, Chris Dickerson and yes, the Lion of Lebanon, Samir all influenced my bodybuilding aspirations and became social friends and mentors that I'd grow old with 20 years into my retirement while becoming a husband, father and grandfather over the years!

Looking back at the old school guys who came before me, I realize they gave me inspiration and motivation to meet them on their level one day and ultimately dream of exceeding their achievements and development by studying what they did and implementing my own techniques to hopefully one day surpass them. By 1984 my course was set on becoming the best bodybuilder I could as I focused on one day becoming Teenage Mr. America.


I had ambitions to become just like these guys in Gold's Gym but thought to myself, if I couldn't win this teenage title maybe this sport is not for me, so I had big dreams and a lot of hard work ahead of me but didn't realize how fortunate I was to be in such close proximity to these Icons of the Iron Game.
Flex Magazine was every bodybuilder's Bible to learn from the best and study the amazing photographs of Joe Weiders highly skilled photographers and writers who captured the essence of these athletes training and nutrition regimes. I would study from cover to cover their routines and body parts of each pro then emulate them in the gym while pretending to be training as hard if not harder than they did in their actual photographs I saw in the magazines! Ultimately, I'd engage with these legends who would welcome my enthusiasm and curiosity of wanting to be like them throughout the years which lead me down a path of friendship and respect for the body of work these guys left behind.
You see, in the midst of the struggles and the battles, studying those who've been where you're trying to go serves as a kind of guidance to where you want to one day be. I befriended the old school guys so I could learn the business and the art of the sport. I was never one to simply watch but rather engage so as to actually become a part of what I wanted to be. In so doing, I developed friendships with older veterans of the game who looked out for me, encouraged me and pushed me to dig deeper and work harder in pursuing my dream. Before I knew it, I was having lunches and phone conversation with these guys from Golds and Flex Magazine. We were on a first name bases as I was climbing the ladder of success and everyone loves to support a winner so I trained especially hard to please my surrogate family of mentors to gain their approval. In 1984, Lee Haney would win the first of his eight consecutive Mr Olympia Titles while I was busy graduating high school. I blinked and turned Pro in 1987 winning the NPC Overall National Championships to then ultimately qualify for the 1988 Mr. Olympia four years out of high school!
Who knew that 2 years after winning the Teenage Nationals in 1985 that I'd be winning the 1987 NPC National Title just as Lee Haney had done before me in 1979 and 1982? I was following in his footsteps, hopefully leading me to the promise land that he was already living in with previous Mr Olympia Champions like Arnold, Zane, Dickerson and Samir were before him.
By 1988 I had successfully established myself as a bonafide IFBB Professional with a Weider Contract and the first of many Flex Magazine Covers in my young career trying to chase down Lee Haney for the ultimate prize in sport, the Sandow Trophy!

My career in professional bodybuilding seemed to go by in a flash. After a 13 year run on the Mr. Olympia Stage, I'd find myself walking away from competition in 2001 without the Sandow Trophy In my house. In my quest to become number one in the world, I would find myself traveling the world as an ambassador of fitness, writing for numerous bodybuilding publications, promoting contests, endorsing various fitness companies and supplement brands before settling into fatherhood and life after the stage in the subsequent years to follow a job I welcomed.


My memories of learning from our legends of the iron game has brought me many fond memories I can share with the generation coming up behind me through my various promotions and experiences. Reflecting on where I've been and where I'm going in this crazy sport of bodybuilding has me feeling a bit nostalgic at times but more blessed than anything else as the plane sits ready at the gate and my heart and mind has me filled with lessons from champions of the sport and with wisdom of our founding Fathers in the form of the Late, Ben and Joe Weider.

The year 2022 is more than half over and I'm 57 years old, now. Where this road leads, I'm not quite sure but it's been one a hell of a ride and if asked, I'd say I'd do it all over again as I've met many of my Hero's from yesterdays past and I can tell you with certainty that I have yet to be disappointed and feel eternally grateful to have participated in this sport when I did and with such fine examples of what the sport of bodybuilding is all about.

The future looks bright with the up and coming group of bodybuilders who may never get to meet their legends the way that I have. However, they are paving their own way and setting the stage for tomorrow's future champions now, I only hope they do half as good a job setting examples as the legends that came before my time.


Editor in Chief.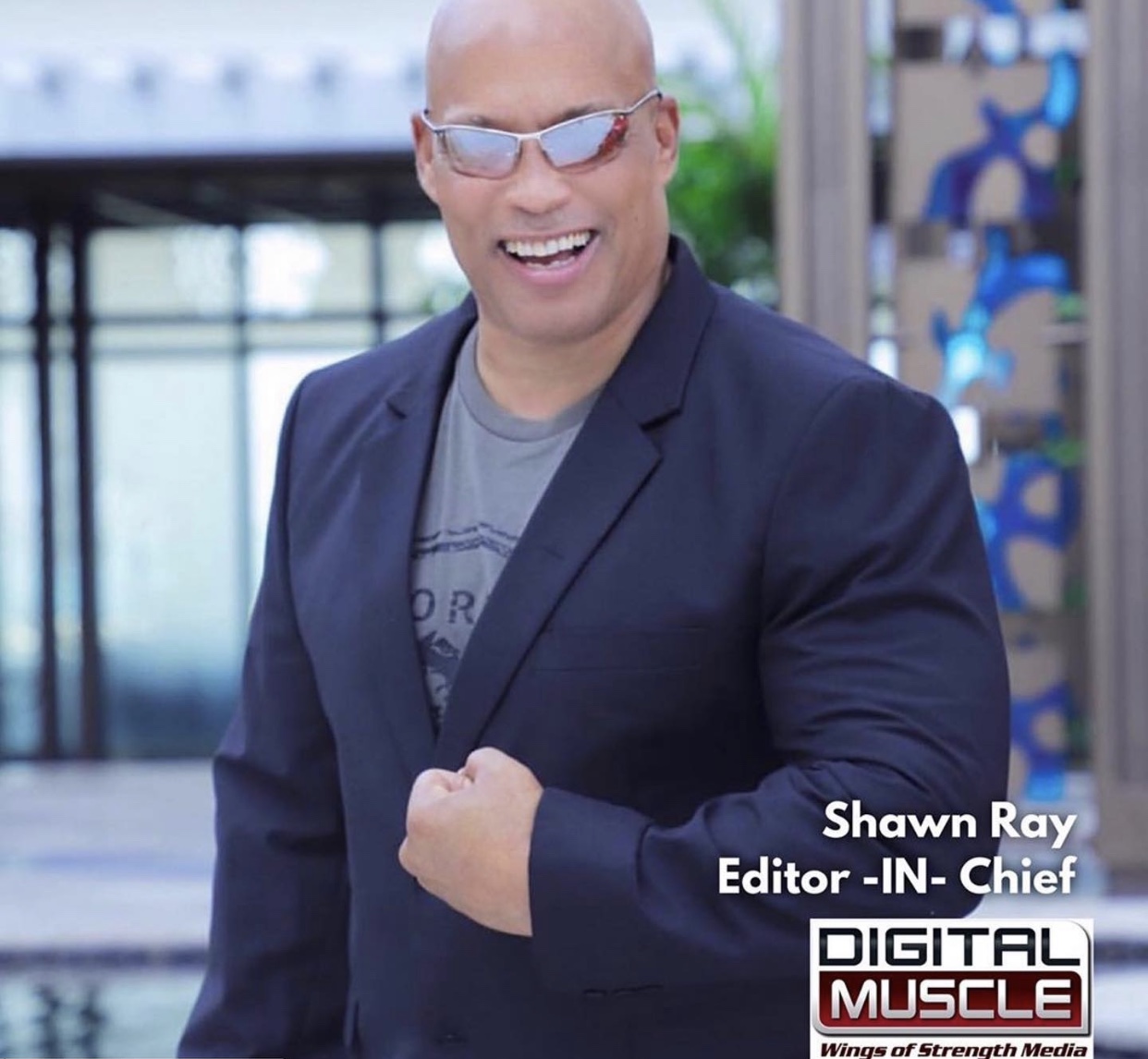 12x Olympia Top 5 Finalist, Pro Bodybuilding Hall of Fame Inductee, International Master of Ceremonies, NPC Contest Promoter, Motivational Speaker, Social Media Influencer, Fitness Journalist