By Valentina Chepiga
Born in the Ukraine, a part of Soviet Union (USSR) in 1962 behind the Cold War wall, I had met with lots of struggles and challenges. I was a very vulnerable girl and learned to hide many secrets at a very young age. I didn't like to share with anyone that I and my older sister had no father. Being a single parent back in those days was labeled as immoral. There were so many stereotypes and one of them was no sex before marriage. I had issues to tell the truth about my background and always stayed in the shadows. Holding the secrets made me an awkward kid in the class room, pretty easy to be bullied and picked on. I dragged my feet to the school every day and couldn't wait to be done with it.
At age 16, one year before the graduation, I told some of my classmates I was going to try to go to an Art school, since I always had a passion for art but I didn't know about the deadline for applying to that particular school. I found out I missed it by a few days and the tests had already started. Going back to my regular school in the fall was not an option. I couldn't imagine how much fun the other kids would be making of me. Instead, I decided to look for a job and continue finishing my education at evening school. So I went to human resource agency and after the interview about my skills and abilities I was recommended for a technician position at design and engineering bureau for refrigeration unions. I worked at that place for 13 years growing from a technician to engineer and attending Kharkov State Technical University of Construction and Architecture after work hours, which I graduated from in the summer of 1987.
That was around Perestroika" time, when we were transitioning from socialism to capitalism. Perestroika broke down lots of stereotypes and it was personally for me a fresh breath of air. Thats when the ban on bodybuilding was taking off. Back in the day, bodybuilding in former USSR was basically an outlawed sport. It was considered narcissistic and self-indulgent. Pumping up, growing your muscles, looking at yourself in the mirror, observing your own reflection and presenting it to the public on stage was pointless according the communist ideology, therefore it was banned.
There was no "I" but "We" and "Us" in the communist vocabulary. If one individual got any special skills or talent "We" take the credit. So, people that lifted weights did it in the secret basements. They even could go to jail for it, if got caught.
Early in 1988, I joined the gym "Club Aphrodite". It was an all girls gym except for the trainer. It happened that our trainer was very passionate about bodybuilding and he had a few girls at the club he trained for the first bodybuilding show in town. All the girls at the club loved to gather around and watch them practicing their posing. It was fascinating to me. Their bodies seemed to be flawless with six pack Abs and little shoulders. Later that month, I watched them competing on big stage and that was an unforgettable experience that made me fall in love with this sport.
After the show, a trainer was looking for more girls that would like to complete at another show and had noticed my triceps while I was doing an overhead arm extensions. He pointed on my muscle like he was sort of impressed and asked me if I'd be willing to try to do the show someday. I couldn't believe he would consider me as a prospect. I had such low self esteem and so many insecurities about my body that being a potential next contestant was a complete shock to me. But sure thing I wanted to give it a try… in next 6 months I was on stage winning my first show. I got hooked. It was amazing to overcome my insecurities and step up on stage in big sport light. That ugly duckling in my head all of the sudden became a little star. I also found that being in a spotlight felt so organically natural for me. Performing and expressing my artistic side was so exciting and fun. Building the muscle trying to balance out my physique was also an work of art to me. But my first success would not go to my head, I knew I was far far from where I wanted to be and I had so much more work to do in order to get there.
The journey had begun from 1988-1997, I competed in so many shows. The most memorable would be winning the overall at the last USSR championship in 1991;3rd place middle weight European championship, 1993; 1st place in middle class European Championship and 1st and the overall in World Championships, 1997. With that last win I earned my IFBB Pro card. As the overall winner, I was qualified to compete at the Ms. Olympia. I had the opportunity to compete in the elite group of the ladies I had admired for years.
I still did not feel confident I was worthy to step up at that level but I didn't want to miss the opportunity. Next year I was on that stage representing the Ukraine among my idols. I placed 12th out of the 17 which didn't qualify me for another Olympia. Only top ten would re-qualify. That's when I started thinking of moving to the States. I signed up for 1999 Jan Tana Classic and started planning my trip. In my mind I thought if I get American visa, I wasn't going to come back. It was hard to say goodbyes to my friends and family but I didn't feel there was future for me over there. We packed a few belongings into two little suitcases, grabbed our cat and traveled across the world. We didn't want to look suspicious going through the custom border if we had more stuff. It all worked out. We made it here. Our friends were living in Washington state and gave us food and shelter.
A week later I was competing at the Jan Tana Classic Roanoke, Virginia and without any expansion I placed 3rd. Wow, I got my Olympia qualifier again? Who can say no to it? Not me 🙂
My most embarrassing moment was at that very Olympia 1999 I signed up for. I didn't realize that I would face an extra challenges in order to get ready for the show. I was very dependent on the other people providing me with the food and transportation to the gym. My diet wasn't on point. I ate lots of cheap meat, mostly turkey and alI it parts of it. Also, I didn't know that turkey here comes pre-salted which is high sodium and not good for my diet. I used to buy my meat and produce at the farm market straight from the farmers back in the Ukraine. I was clueless why I was holding so much water? I remember that day we (Olympians) in the dressing room back stage, all the ladies were looking shredded except me. I was so embarrassed to take my pants off. For those who doesn't know, if you've signed the contact to participant, you can't back out just because you think you look bad. I had no choice but get up on that stage and fulfill my contractual obligation to compete. Of course the outcome was so predictable, I placed dead last. After that last experience I wanted to call it quits. I felt I had reached out my potential and it was the time for me to go. I needed to focus on legalization of my residency status anyway and get it taken of, start adopting to a new life style, learn English and figuring out how we going to support ourselves.
Long story short, just as I was believing I was done, I received a phone call from James Cook (my friend Natalia interpreted it for me) when I was offered to do video/photo shoot for FTVideo.com. We agreed I would sign up for the show and we meet up a few days after in LA and do the shooting. That was Jan Tana Classic in 2000 again only this time I won my class (middleweight). That year the weight classes were tried out for the IFBB PROs in womens devision for the first time. Wow, I got qualified for the Olympia for the third time! Third time is a charm. I also received a very good feedback after the show and it built up my confidence, I could do well in the Ms. Olympia this time around. I didn't want to let it go and my training and nutrition was on point. I only had about two and a half months to go. I kept working on my conditioning and maintaining the size.
Finally, the day had come, Ms Olympia weekend! That year (2000) two weight classes for the women's devision were created. My weight was 135 lbs, exactly on a borderline to make it into a light weight devision. As I arrived the day before the show I found out the weigh ins would be held next day before the prejudging. No way I could maintain that body weight, I started carbing up. Next day I was 135.5 lbs. on the scale which pushed me into the heavy weight class. My conditioning was on point and I was happy with my overall look. I went on stage with all the confidence I could grasp and nothing could stop me from having fun. I was so ready to display my hard work at its finest. The result was me winning the 2000 Ms. Olympia crown!
Since there was no overall winner named for that show, the lightweight winner, Andrulla Blanchette equally shared this title. It was a pinnacle of my profession career I'm forever grateful for.
I had competed in 7 Ms. Olympia contests but after 2000 I wasn't able to defend my title. The year 2002 was also great year for me I won Ms. International light weight at the Arnold Classic then took 2nd place in the Ms. Olympia light weight division and took 1st place in the light weight at GNC Show of Strength Championship later that year. The last time I competed in the Ms, Olympia was in 2007 taking 11th place.
In 2013, 2014 and 2016 I made my came back, this time in the new womens physique devision. I always felt that was the devision I wanted to represent.
As much as I love all the new devisions for women it was sad to hear that 2014 would be the last of the Ms. Olympia contests for women's bodybuilding. Taking out the Ms. Olympia Contest but still giving out pro cards and keep women's bodybuilders around but not letting them back on Olympia stage didn't make sense? I felt bad for all those women not being able to show their hard work at the most prestigious show in the world, The Ms. Olympia!
This year, I got invited for the "Ms. Olympians/ Rising Phoenix Legends & Champions" celebration, where most of the past Ms. Olympia Champions showed up to support women's bodybuilding who deserve the full recognition for their world achievement in the sport.
I was so glad to hear that in 2020 the Ms. Olympia Contest will be a part of the Mr. Olympia Weekend in Las Vegas once again and that the CEO of Wings of Strength, Jake Wood would make this possible for the hard working Ladies of Iron!
Unfortunately, my health condition would not allow for me come down and join the group of these wonderful people.
I found out I had cancer.
No one wants to hear the "C word" but unfortunately, it can happen to anybody. There is no playing around once you hear this devastating news, it wants to destroy you but I'm putting up some fight! The treatment has begun and I'm feeling very positive about the outcome. You realize how precious life is and there is no time to waste on feeling sorry for ones self.
I'm choosing live my life to the fullest and do what I love the best. I did personal training up in Washington and then in Alaska in recent years.
I took a break from training since I've moved to Southern California and now it's time for me to revaluate myself and learn what else I would love to do besides the personal training. I got my passion for Art back on the surface and I'm exploring different things I have never done before like painting marrow on the wall, giving face lift to old pieces of furniture, up-cycling and repurposing things. That's my new hobby for now that brings me joy.
I still want to be available for personal training because that's what I do the best
Email: [email protected]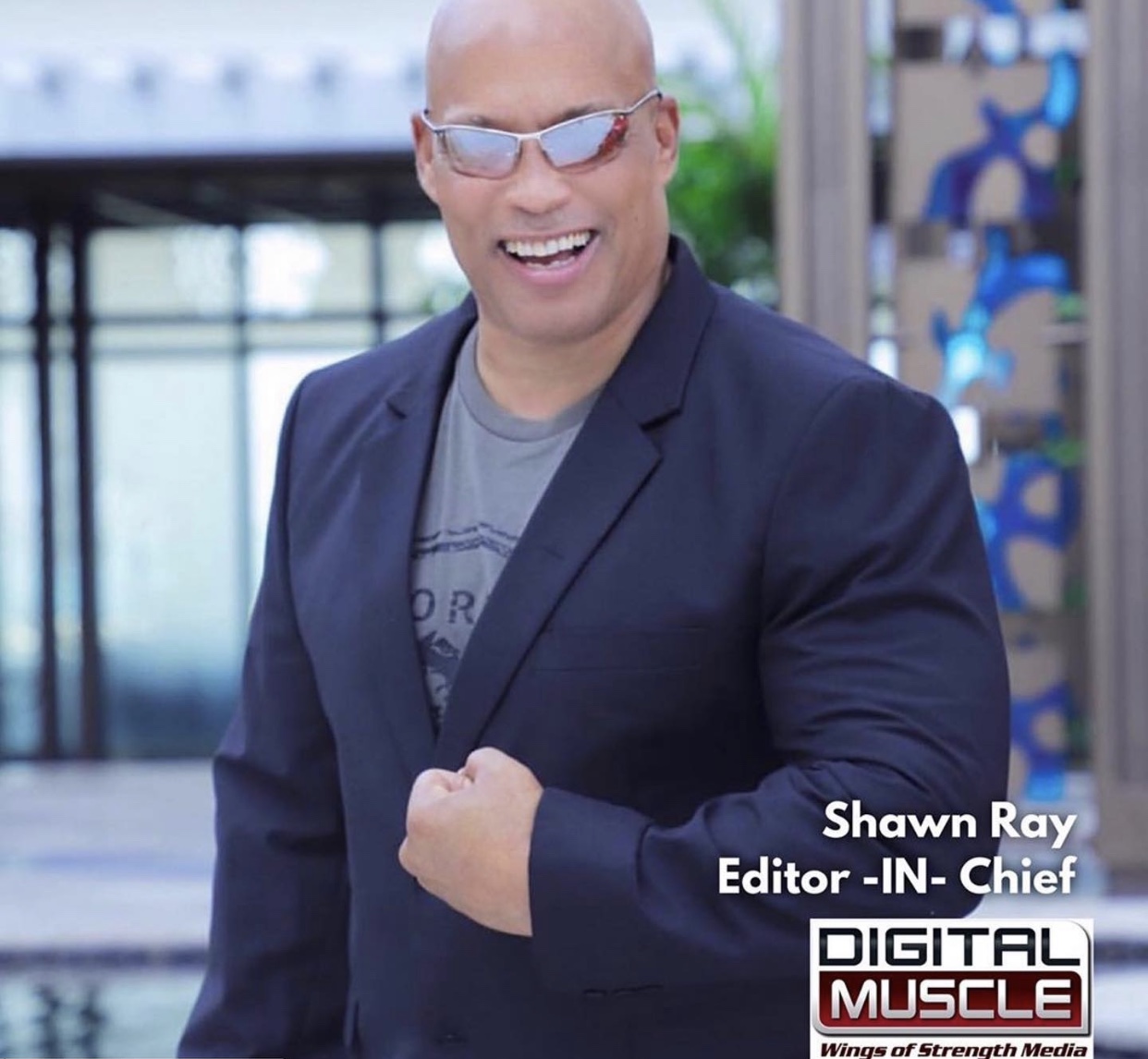 12x Olympia Top 5 Finalist, Pro Bodybuilding Hall of Fame Inductee, International Master of Ceremonies, NPC Contest Promoter, Motivational Speaker, Social Media Influencer, Fitness Journalist