By Evina Del Pizzo
Bathing suit weather is coming! When it gets here, some people will be ready to show off the body they've been working hard for all year, while others will be hustling last minute to get ready for that special pool party they've been planning to attend for months. If you fall in to the pool-ready group, good for you for sticking to your strict workout and nutritional plan, but if you fell into the procrastination pool and are frantically hitting the gym and starving yourself, next year you may find yourself in the same situation, doing the same thing over again and expecting faster weight-loss results. In reality, this pattern affects your metabolism and keeps your body from performing at its optimum.
Here are some tips for the procrastinator to help you develop better habits to maintain your beach body year-round and avoid the rush to diet as summer approaches.
1) Drink More Water People everywhere are purchasing a diet tea that they believe will help them maintain a slim waistline. That is probably not true, and more than likely it is just a really expensive version of Ex-Lax. So, instead of falling victim to the Insta-famous model offering testimonials, who doesn't have a background in fitness, try drinking more water. Not only is it good for the body, but it also helps with regulating and balancing hormone production, which can equate to minimal fat storage. People usually assume that their hunger pains are true hunger pains and forget that hunger may also relate to thirst. Most of us will wait till we have a dry mouth, which, in fact, means that the body is reaching a point of dehydration and is very low in electrolytes. Drinking more water can relieve those pains, and if you incorporate more water into your diet, your skin and hair will start to take on a glow that's better than what you get with most hair and skin products.
2) Be Accountable to Your Goals
Writing down your goals, keeping a record of your meals, and making a vision board are things you can do that will spark your motivation to take the little steps that will help you pursue your body goals. Fat loss isn't going to happen overnight. Mostly it will happen because you are teaching yourself new behaviors, which the brain connects to and so makes you want to take action.
Try this: make a list of 10 attainable goals, and put it up in a place where you will read it every morning and every night. Retrain your brain to follow through on your goals by having a constant reminder.
When I wanted to win an overall trophy, I cut out pictures the top three bikini competitors from the Olympia and glued the bodies to a vision board with my face glued on the body of the girl in the middle. I imagined myself in her shoes for months, coupled with tough dedication in the gym, and I began to feel like a winner.
3) Replace One Bad Habit With a Good Habit. Try to identify one habit that is keeping you from your goals. Then, as you're looking at your list of goals morning and night, focus on what to do about it. Instead of trying to quit the habit, which rarely works, find a good habit you can replace it with. For example, I have a tendency to get home from work and just sit down, while my dog begs me to take her for a long walk. The switch is obvious here. Instead of plopping down, I could be getting in a small dose of cardio. Nature hates a void. Fill that void with something that can be a positive benefit to your life.
4) Eliminate Excuses We all have them. I trolled on Facebook for about an hour before I started writing this blog.  What's the cure? Sometimes it's a simple formula for complicated people: do the opposite of what you're doing now. Can't find a healthy spot for lunch around your workplace? There are options. For one thing, you can order your lunches from a meal service. No wasting time with food prep or cooking. Diet-to-Go has great affordable options for meals ready to eat, but there are numerous similar services.
Have time to cook, or don't have the funds for a service? Packed lunches help keep you on the path to your fitness goals and are easy to take to work. Most coworkers will be jealous of a great homemade lunch, and it may inspire them to change some of their own habits.
5) Plan Your Meals The difference between being prepared and not being prepared will determine whether you are successful in achieving your fitness goals. Taking control of your food is an important factor—understanding portions, macros, water intake, and the nutritional value of food are all part of it. Observe how the food you ate earlier affects how you're feeling later. For example, many of my clients have learned that they feel "sluggish" and "gross" after a highly processed meal when they have been eating healthy for a long period of time. Taking the time to plan your meals will not only help you stay on track for your fitness goals but also help you appreciate the value of balanced nutritional.
6) Carve Out the Time (No Matter What) Read the book 168 hours: You Have More Time Than You Think by Laura Vanderkam! In a week, there are 168 hours. After taking out 50 hours for work, you still have 118 hours left for sleep and everything else. Let's say six hours' sleep a night for the parents out there; so 42 hours of sleep, which leaves 76 hours. Drive time? Let's be over the top and take away 10 hours. That still leaves 66 hours for family and me time. Obviously, individuals' schedules vary, but by calculating the time that you spend doing nothing, trolling social media, or watching TV, you will find that you can have a full life and be fit too!
7) Hire a Professional (In Case You Can't Do 1-6 On Your Own) I'm not just an Instagram model. I'm someone who has studied and knows what she's doing in the gym. Not every pro is an actual pro at knowing how to train and diet. Two points if you want to get excellent assistance with your fitness goals: 1) you will have to pay for it; and 2) you don't want to waste money on someone who isn't qualified. Most trainers are only qualified to train you. Nutrition is another area.
Also, a great trainer isn't going to sell you supplements, ask you to join a multilevel marketing program, or communicate with you only for the hour that he or she sees you. Great trainers will have their communication skills up to par, help you be accountable, encourage (not yell at) you to push past that extra rep, and educate you. That promotes growth.
Check back to DigitalMuscle.com daily for great new tips, insight and recipes as the march toward summertime continues!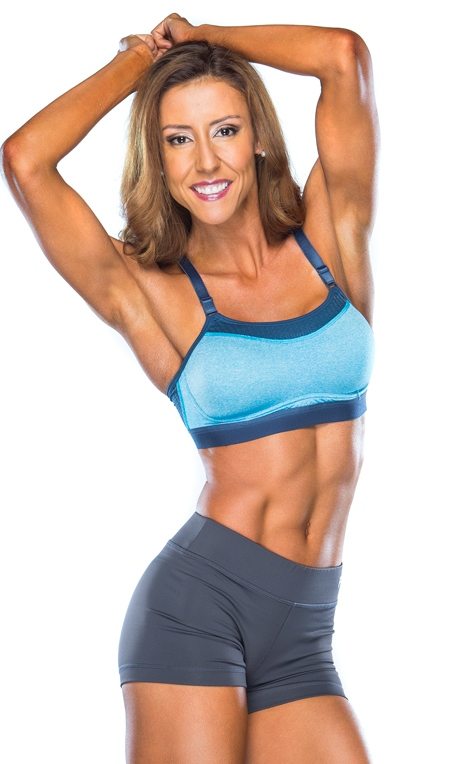 A former Hawaiian Tropics bikini model, Evina Del Pizzo is a certified Master Trainer at Gym Life in Granada Hills, California. She holds a degree in social behavior with an emphasis in sports psychology from California State University, Northridge. Del Pizzo is sponsored by Pro Fight Sports and recently won her first NPC overall bikini title.